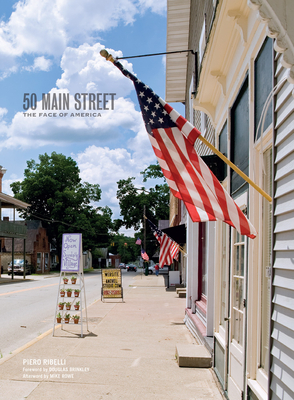 50 Main Street (Hardcover)
The Face of America
Cameron Books, 9781937359157, 300pp.
Publication Date: July 4, 2012
* Individual store prices may vary.
Description
How have Americans changed, ten years after 9/11? In telling the stories of people with something undeniably in common, 50 Main Street inspires readers to focus on the fundamental similarities they experience in their lives, rather than dwell on differences. Ribelli flew 31,000 miles, drove another 16,000 miles, spent a few hours on trains, and even enjoyed some ferryboat rides to reach all of his destinations. In a time when society seems more divided than ever, whether it be by political party lines, religious beliefs, social issues, or immigration policies, Ribelli chooses to focus on Americans with something in common their address to rediscover the people that embraced him when he first moved to the United States. The book moves seamlessly from state to state and introduces readers to Main Street, from the twin firefighters in Pennsylvania to 100-year-old Ralph in Nebraska. Recent immigration is described in the stories of a Christian Iraqi girl in Michigan and a Puerto Rican pediatrician in Massachusetts. A non-judgmental, modern-day Alexis De Tocqueville and more positive than Sinclair Lewis, Ribelli shares laughs, tears, and even the occasional fried pie recipe.
About the Author
At age 27, Piero Ribelli left Italy, moved to the United States, taught himself English, and started a new life as a professional photographer. Ranging from travel, portraiture and photojournalism, his photographs have appeared in magazines around the world He lives in New York City. Douglas Brinkley lives in Austin, TX. Mike Rowe lives in San Francisco.
Praise For 50 Main Street: The Face of America…
This is a wonderful documentary portrait, a personal cross section of the country in a post-industrial, complicated moment in time."
Ken Burns, documentary filmmaker (The Civil War, Baseball, Prohibition)

You want authentic? Look at the guy on the cover. He's the real deal, just like everyone else in 50 Main Street. This book matters. Not because it'll make you smile, and not because it's filled with pretty pictures. It matters because it's authentic. 50 Main Street is a genuine tribute to strangers you've always known, and old friends you've never met. It's a journey back home, no matter where you come from, or what your address might be."
Mike Rowe, Dirty Jobs

As a lover of people, places and pictures, I get a wonderful, warm feeling looking at this book and it was fun seeing my name mentioned in it."
Dolly Parton

This book shows that the success of one man's dream is a reason for us all to dream."
John Mellencamp

This work is not a style manifesto, it is not radical in brand new photographic strategies . . . it does not have to beas it follow she path of deep experience within all of human history . . . the experience of deep optimism and kindness. Each picture rests in the belly of the soul of generosity . . . in doing so they give one a view of America which has been diminished and needs to be revisited . . . Piero is a visualist of profound moral worth. His pictures allow one to hope and smile . . ."
Larry Fink, photographer

50 Main Street is an epic achievement. It gives me a real sense of who we are in this country, as individuals and as a whole. Whether we are from the East, the West or the heart of America we are all different yet similar. I really appreciate the sense of commonality and community expressed in this book."
Wayne Wang, film director (The Joy Luck Club, Smoke, Snow Flower and the Secret Fan)

50 Main Street is a big, wide-open window into the heart and soul of America. Insightful, gorgeous, and deeply moving."
Larry Samuel, author of The American Dream: A Cultural History
or
Not Currently Available for Direct Purchase