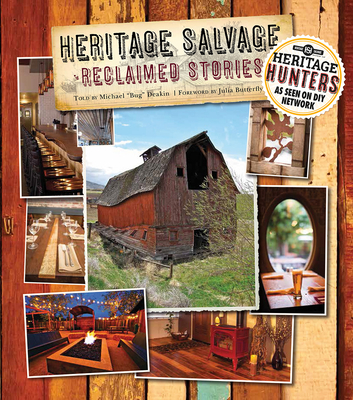 Heritage Salvage (Hardcover)
Reclaimed Stories
Cameron, 9781937359508, 168pp.
Publication Date: September 16, 2014
* Individual store prices may vary.
About the Author
Michael "Bug" Deakin is the founder and owner of Heritage Salvage, a reclaimed building materials yard, and host of the reality series Reclamation Road. He lives and works in Petaluma, CA. A British Columbia native, Bug built his first home out of reclaimed materials in 1970, and that was just the beginning. Along the way he has planted trees, designed, built and remodeled custom homes, boats, movie sets, rock walls, gardens, parade floats, tree forts, dog houses, ship models, furniture and a splendiferous array of art forms from repurposed materials. As a member of Ivy Deakin's story telling family of 10 children, everything was re-used and recycled, especially all the great stories. Bug takes to heart the story and origin of the buildings, people and materials that make their way in and out of the Petaluma yard. With relentless focus on sustainable enthusiasm and talking story, Heritage Salvage has become a center of creativity and sustainability. As he waltzed his way through years of planetary wanders and events of wonder, he learned from many teachers and was affected by design without limits. From an Amazon Tree house to a Japanese Teahouse, a Balinese Birdhouse, a Driftwood Palace and the pleasing decay of a Western Barn, every nuance notched its niche. Bug's passion is the art and reward of re-purposing, re-using, and recycling as a part of a sustainable way of life. Just as in the Deakin family, there is always enough to share, and Heritage Salvage goes out of its way to help those that need it and those that help others. Michael Bug has a sprawling enthusiastic family in British Columbia, including a fabulous Daughter Suzy and two grandsons in Salmo! For 738 days Julia Butterfly Hill lived in the canopy of an ancient redwood tree, called Luna, to help make the world aware of the plight of ancient forests. Her courageous act of civil disobedience gained international attention for the redwoods as well as other environmental and social justice issues and is chronicled in her book The Legacy of Luna: The Story of a Tree, a Woman, and the Struggle to Save the Redwoods. She lives in Belize.
or
Not Currently Available for Direct Purchase