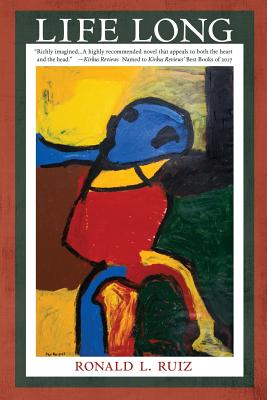 Life Long
Paperback

* Individual store prices may vary.
Description
NAMED TO KIRKUS REVIEWS' BEST BOOKS OF 2017 Ray Lopez is on the run with a duffel bag full of cash. Both drug dealers and the police are after him. But Ray is not a criminal. His last brush with the law was over traffic tickets. Recently released from the hospital with a diagnosis of schizophrenia, he is haunted by voices, auditory hallucinations, that frighten him and cause him to question his every move. Ray's journey from California to Laredo is perilous. Like so many Americans before him, he travels through unfamiliar territory with no clear way of knowing who will help and who will harm him. And he may well find himself on the wrong side of the border with a mind that has no borders. KIRKUS REVIEWS (STARRED REVIEW)
www.kirkusreviews.com
To be fleeing cops and bad guys is scary enough, but imagine, as novelist Ruiz...does, that you're also schizophrenic-and on the run, as it were, from yourself. The author tells his tale through the eyes and mind of Ray Lopez (aka Jimmy Ramirez), a poor kid from California's Central Valley. Ray is a good kid who gets drawn into the schemes of his shady cousin, ex-con Billy Cisneros, which involve shepherding bags of cash. On top of that, Ray has recently had his first psychotic episode. The drug Zyprexa keeps him stabilized and keeps the voices at bay, but paranoid Ray feels that he has to get out of town, as he's convinced that Billy's associates or the cops are hot on his trail. He flees with a duffel bag of clothes and a gym bag full of C-notes. He makes it to Los Angeles and is advised by a fellow bus passenger that Mexico might mean safety-but he must go to Nuevo Laredo, not Tijuana or Juarez. So he boards a Greyhound bus (which he calls "ridin' the Dog"); it's a miserable trek, as Ruiz makes clear, for people who cannot afford to travel any other way. All the while, Ray is terrified of being found out and has precious few Zyprexa pills left. In Laredo, he warily makes friends with a street-wise kid named Joey Reyes, who offers to get him into Mexico to get his prescription filled. Ruiz is a strikingly good writer, and his chapter detailing Ray's "break"-and the terrifying, evil voices in his head-is a sojourn in hell; readers will understand why Ray is in a panic to get his prescription refilled and why the voices terrify him. Obstacles multiply endlessly, and the descriptions of Ray's long days and nights on the bus, and of the dreary and dehumanizing bus terminals, will likely make many readers deeply grateful for their better circumstances. Ruiz proves to be a very sharp social critic, and no detail gets past him in this richly imagined book. A highly recommended novel that appeals to both the heart and the head.
Amika Press, 9781937484538, 276pp.
Publication Date: June 17, 2017