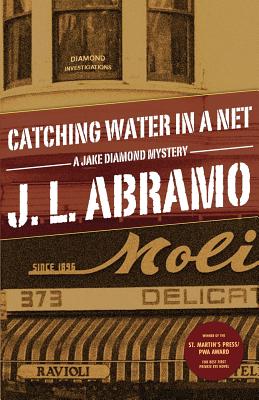 Catching Water in a Net
Paperback

* Individual store prices may vary.
Description
Winner of the 2000 St. Martin's Press/PWA Award for Best First Private Eye Novel San Francisco PI Jake Diamond is a hero who plays both sides of the private eye street. He is a careless dresser with a sloppy lifestyle and he couldn't keep his marriage from falling apart. But he also epitomizes the best of the modern shamus. He has the kinds of friends a man in his profession needs-jailbirds, mob bosses, and a cop who can surreptitiously run license plate numbers for him. Jake has been down on his luck lately, barely making enough money to pay the bills but it looks like business might finally be picking up. A woman comes to his office begging him to find her missing husband who has been accused of murder. Jake remembers that his mentor Jimmy Pigeon always says "Whenever I'm asked to locate a missing spouse, the words 'no, but thanks for asking' always come to mind" and almost turns the case down, but then he learns that the murder victim was Jimmy Pigeon. Determined to discover the identity of Pigeon's killer, Diamond scrambles between Los Angeles and San Francisco following leads that range from weak to delusional. With the help of his trusty and sarcastic assistant, Darlene Roman, compulsive gambler Vinnie "String" Stradivarius, and Italian-American "businessman" Joey Russo, Jake slowly uncovers the motives behind Pigeon's murder. Jake's adventure has all the components of a great new private eye series-scares, suspense, lots of laughs, a few tears and a big surprise at the end. Praise for CATCHING WATER IN A NET: "San Franciscan narrator Jake Diamond easily fits the traditional hard-boiled, whiskey-in-a-drawer, office-on-a-shoestring private eye mold. And the cryptic, hammered-out prose accentuates his dilemma: find the man who allegedly killed Jake's former mentor in Los Angeles. Jake finds his man but too late. Now he extends his search to the guy who wanted to purchase the dead pair's Ex-Con.com website business. The obligatory sultry ex-wife, characters with names like Willie Dogtail and Vinnie Stradivarius, and picturesque thugs complicate the plot and add to the atmosphere." -Library Journal "First novelist Abramo has the hard-boiled private eye formula down pat-perhaps even too pat. Diamond exhibits every PI cliche in the book, from the bottle in his desk drawer to his antagonistic relationship with the police. On the other hand, the novel is solidly written and captures the mood of the genre." -Booklist "Abramo's novel brings back the spirit of Chandler and Spillane in a way that's original while paying tribute to its genre predecessors." -The State "Abramo echoes themes from some of the great crime writers past and present, adding a great deal of his own." -John Dantzler, co-author Hiking South Carolina "Abramo keeps the twists coming fast enough that readers have no choice but to keep turning pages." -San Francisco Chronicle "Fast-paced...ought to please pulp die-hards." -Kirkus Reviews
Down & Out Books, 9781937495480, 274pp.
Publication Date: March 4, 2013