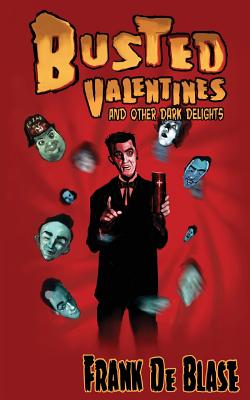 Busted Valentines and Other Dark Delights
Paperback

* Individual store prices may vary.
Description
13 sordid and salacious tales of hustlers, lovers and losers, killers and thrillers carousing in a charade of lust, love, luck, and murder... where shifty, shady types clamor to survive, when no way out seems to be the only way out... "You read stuff like this and the top of your head comes off. This is pure dark, stark, powerful poetry." -Les Edgerton, author of The Bitch, The Rapist and The Genuine, Imitation, Plastic Kidnapping "It's top shelf writing with a bloodshot eye for the gutter." -Charles Benoit, Edgar-nominated author of Relative Danger and You "De Blase wields a big heart and a bigger knife for twisting." -Jack Getze, Spinetingler Magazine.
Down & Out Books, 9781937495701, 168pp.
Publication Date: February 11, 2014
About the Author
Frank De Blase is an award-winning writer, photographer, ex-rockabilly crooner, social contrarian, and all-around troublemaker who always leaves room for desert. His writing and photography has been published in LEG SHOW, LEG WORLD, SWANK, ULTRA, TEMPTRESS, RETRO LOVELY TABOO, OL' SKOOL RODZ, CAR KULTURE DELUXE, REBEL INK, SKIN AND INK, URBAN INK, V MAGAZINE, DOWNBEAT, and CITY NEWSPAPER. De Blase lives in Rochester, New York with his wife, Deborah. http: //www.frankdeblase.com/