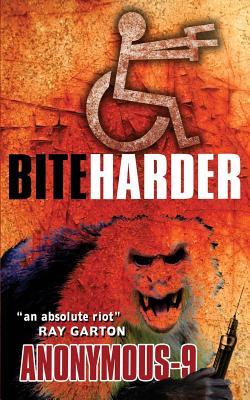 Bite Harder (Paperback)
Down & Out Books, 9781937495756, 198pp.
Publication Date: October 1, 2014
* Individual store prices may vary.
Description
Some say he's a serial killer. Others say he's a vigilante doing what police can't or won't do. What's certain is that Dean Drayhart, a paraplegic, will soon sit on death row for killing hit-and-run-drivers in Los Angeles. But not if the Mexican Mafia gets hold of him and those he loves first. Dean may be broken in body but his fierce spirit is determined to protect his pet monkey named Sid and girlfriend Cinda-out there running hard and fast from the law. Hardboiled, funny, relentless, and unexpectedly tenderhearted BITE HARDER delivers riotous action all the way to a bombshell climax that could only have been written by Anonymous-9, the self-declared mad scientist of crime fiction. "Bite Harder is part screwball comedy, part killer crime story entirely unlike anything else out there. It is unique and vicious and bloody funny but what kept me turning pages deep into the night was its heart. I loved Hard Bite, and Bite Harder is even better, stronger, wilder." -Josh Stallings, Beautiful, Naked & Dead, Anthony Award nominee "Brilliant, brutally funny, so real you can taste it. Starring the finest serial-killing helper monkey in all fiction." -Douglas Lindsay, author of The Long Midnight of Barney Thomson, soon to be a major motion picture starring Emma Thompson and Robert Carlyle.