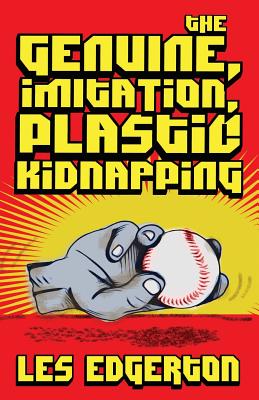 The Genuine, Imitation, Plastic Kidnapping
Paperback

* Individual store prices may vary.
Description
A mix of Cajun gumbo, a couple tablespoons of kinky sex and a dash of unusual New Orleans settings and you wind up with Les Edgerton's latest romp fest

Pete Halliday is busted out of baseball for gambling and travels to New Orleans to make his fortune hustling. Five years later, he's deep in debt to a bookie and in cahoots with Tommy LeClerc, a Cajun with a tiny bit of Indian blood who considers himself a red man.

Tommy inveigles a reluctant Pete into one scheme after another, the latest a kidnapping scheme where they'll snatch the Cajun Mafia King and hold his amputated hand for some serious jack.

Along the way, Pete is double-crossed by Tommy and falls in love with part-time hooker and full-time waitress Cat Duplaisir. With both the Italian and Cajun mobs after them, a chase through Jazz Fest, a Tourette's outbreak in a black bar and other zany adventures, all seems lost.

Fans of Tim Dorsey's character Serge Storms, and readers who enjoy Christopher Moore and Carl Hiaasen, will enjoy this story.

Praise for THE GENUINE, IMITATION, PLASTIC KIDNAPPING:

"A hard-driving, relentless story with grab-you-by-the-throat characters." --Grant Blackwood, New York Times bestselling author

"The Genuine, Imitation, Plastic Kidnapping is not for the faint of heart, and that's just one of its selling points. If you like crime fiction that cracks wise while offering a peek into the darker recesses, this is the book for you." --Bill Fitzhugh, author of Pest Control and The Exterminators

"... a dark crime comedy that will have you laughing from page one. It crackles with manic energy and mad thrills. If you're looking for a different kind of edgy crime novel, this is the one to grab." --Bill Crider, author of the Sheriff Dan Rhodes Mysteries

"Les Edgerton's latest book is the real deal, and has everything to keep you turning the pages. It's a caper, full of fun and high-jinx, but it's also bitter-sweet, engendering a full range of emotions. You'll smile, you'll wince, you'll laugh out loud, and sometimes you'll even cringe, but you'll come away from the read feeling thoroughly satisfied and entertained. A terrific read." --Matt Hilton, author of the bestselling Joe Hunter thrillers
Down & Out Books, 9781937495794, 304pp.
Publication Date: September 10, 2014