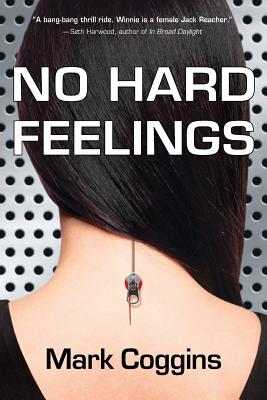 No Hard Feelings
Paperback

* Individual store prices may vary.
Description
Winnie doesn't remember the last time she felt anything below her neck. Her spine is severed at the seventh vertebrae, but thanks to implants from a sabotaged biomedical start-up, she has regained mobility. She is a prototype: a living, breathing-walking-demonstration of revolutionary technology that never made it to market. Her disability has become her armor. Because she doesn't register fatigue, she has trained relentlessly. Her hand, arm, and leg strength are off the scales for a woman, and she has honed self-defense techniques to channel that strength. She's a modern-day Amazon who feels no pain. When the sociopath who torpedoed the start-up sends killers to harvest the implants from her body, Winnie must team up with broken-down private investigator August Riordan to save both their lives-and derail sinister plans for perverse military applications of the technology. Praise for books by Mark Coggins "A bang-bang thrill ride. Winnie is a female Jack Reacher." -Seth Harwood, author In Broad Daylight "Smart, stylish, sexy and amusingly insouciant...a panoramic tour de fource." -San Francisco Chronicle "Gritty...seamy...very, very funny. Coggins] has given the form fresh life." -National Public Radio "Dry ice sarcasm...and plenty of nasty chuckles in route." -Publishers Weekly (starred review) "Coggins hauls on a dark, hip journey." -Detroit Free Press "Coggins writes tight prose with a clean, unadorned style; he is a Hammett for the turn of the 21st century." -Loren D. Estleman "Utterly entertaining" -Ellery Queen's Mystery Magazine.
Down & Out Books, 9781937495916, 304pp.
Publication Date: January 13, 2016