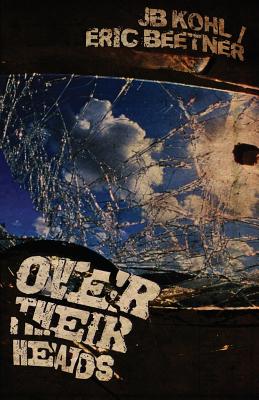 Over Their Heads
Paperback

* Individual store prices may vary.
Description
The drugs are missing and four lives are about to collide. Clyde just wanted to make a little extra cash on the side to raise his new baby. Now his life and the lives of his wife and newborn daughter are in jeopardy. Brent just wanted to do his job and be left alone. Now he's in a race against time for his life. Sean just wanted to escape the crime he committed in Detroit. Now he's stumbled into another. The money he embezzled is nothing compared the load of narcotics that fell into his lap. And Skeeter? Well, Skeeter wants the drugs back, and he'll use any means necessary to get them. When these four are let loose on a mad scramble to locate the drugs, they cut a path of mayhem and bloodshed across Virginia. Inept would-be criminals clash with ruthless drug dealers in a violent weekend where no one is safe. The only certainty: Everyone is in over their heads. "Hard boiled pulp, hot off the press. The writing team of JB Kohl and Eric Beetner give the middle finger to polite crime writing and splatter the pages of Over Their Heads with foul mouthed, two-fisted action delivered in a hail of bullets. Neo-noir, transgressive fans will cheer. Drawing room mystery readers may need smelling salts. Don't say you weren't warned." -Anonymous-9, author of Hard Bite and Bite Harder "Over Their Heads is a stripped down hot-rod of a novel. JB Kohl and Eric Beetner keep things fast and tight, with a gasp or a laugh on pretty much every page as an assortment of would-be badasses try to track down some missing drugs. It's a comedy of errors, scored with the sound of gunfire." -Jake Hinkson, author of The Big Ugly "Over Their Heads is a real tour-de-force from the writers that brought you One too Many Blows to the Head. A full-blown crime noir that will keep you on the edge of your seat " -Bill Craig, author of the Marlow Key West Mysteries and the Decker P.I. mysteries.
Down & Out Books, 9781937495947, 224pp.
Publication Date: May 14, 2015