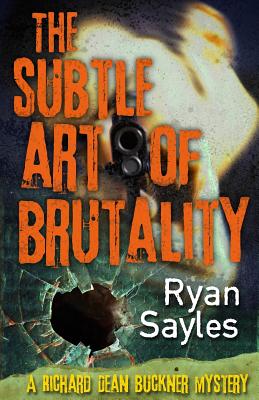 The Subtle Art of Brutality
Paperback

* Individual store prices may vary.
Description
The girl has gone missing. Again. But this time people are trying to kill her. Trying to burn down everything she has touched or left behind. The girl's surrogate father feels responsible and to assuage his guilt, he hires Richard Dean Buckner, former Saint Ansgar homicide detective turned private eye to ferret her out. Buckner was doing fine as a bare-knuckles detective for the PD until he was rendered "unserviceable" by a hit attempt. Early retirement doesn't sit well with that type of man, half predator and half savior. He takes the case, and from two ex-boyfriends who ruined their lives for the girl, her rapist dad, drug dealers she burned for thousands, an uncomfortable meeting at the local Incest Survivors group to whoever is setting fire to her life, Buckner is going to need all his guts, instinct and .44 Magnum to finish the job. Because in Saint Ansgar, what doesn't kill you only makes you wish it did. Praise for The Subtle Art of Brutality "Richard Dean Buckner is just the hero for our modern world: a righteous killer who can step outside convention and right the wrongs; and Sayles is just the writer to drive his story. This is how I like my fiction: unrelenting prose and kick-ass justice." -Joe Clifford, author of Lamentation "The brutality is in the prose. Course and violent, Sayles writes like he is seeking vengeance against the world. It's 21st century noir. Mickey Spillane on meth." -Tom Pitts, author of Knuckleball "As subtle as brass knuckles to the face. Buckner is a classic and Sayles is one to watch." -Eric Beetner, author of Rumrunners and The Year I Died Seven Times "...Richard Dean Buckner left me wanting more. He is a breath of fresh air in an antiques shop. A biker in a museum. A chaotic, reckless anomaly. You know I'm enjoying something when I deliberately slow down my reading pace to enjoy the novel longer. The Subtle Art of Brutality is a ridiculously strong first novel, starting the new darling of the P.I novels legacy." -Benoit Lelievre, blogger and reviewer at Dead End Follies "Gut twisting detective fiction done the way it is supposed to be done. RDB makes Dirty Harry seem a little soft." -Todd Morr, author of Jesus Saves, Satan Invests "The Subtle Art of Brutality is a nut busting slice of noir. All of the required hard-boiled elements are present and accounted for..." -Chris Leek, author of Gospel of the Bulley "The Subtle Art of Brutality is a testosterone-and-meth cocktail, a relentless blast of tough guy intensity. 21st-century hardboiled." -Warren Moore, author of Broken Glass Waltzes.
Down & Out Books, 9781937495961, 326pp.
Publication Date: June 21, 2015