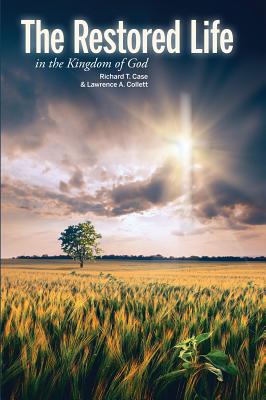 The Restored Life: In the Kingdom of God (Paperback)
In the Kingdom of God
Benchmark Associates, Inc., 9781937498733, 150pp.
Publication Date: February 27, 2015
Description
I try to take a walk five days of every week. The course is approximately three and one-half miles and crosses some beautiful terrain in the valley where I reside. It goes one direction and then reverses itself. During one part of the walk, the wind will be behind me, assisting by allowing me to move at a faster and brisker pace. It is always enjoyable when this happens, as I appear stronger and quicker than normal. When the course reverses itself, the wind is in my face. Now, this experience changes. Instead of assisting me, I am now walking into a headwind, slowing my speed and making the exercise more difficult. I actually go slower, taking longer to progress.
This breeze is always present in our life on Earth. There are periods when we feel we are hitting stride, moving quickly and seeing good results. Then there are times when we are either stuck or moving at a snail's pace. We get frustrated and just want the direction to change. Interestingly, the breeze is not the issue. It's the walk that is important. While the wind will always be there, its direction often changes and it is not always predictable. What is necessary is to stay on course and complete the journey. How I walk, regardless of the direction of the wind, is what counts. There should be a consistency in my step that doesn t change, regardless of the impact of outside forces. I should anticipate a higher level of energy and satisfaction as a result of competing and completing, despite the obstacles incurred or assistance received.
The Restored Life is about that walk. It discusses what life should be and provides insight into the blessings and obstacles we will face. It is about the excitement and enthusiasm we receive as we stay on course and experience the results. And it highlights the choices we must make, so the experience will be our highest and greatest enjoyment.
Take this journey and allow the breeze, though ever-present, to always be an asset in this wonderful experience called life. Live the life that God has prepared and Christ has restored. Enjoy it to the fullest
About the Author
Richard T. Case, age 65, has over 45 years of executive line management experience, both as a senior executive with Fortune 500 companies and as a management consultant to numerous industries and companies. He has also been a featured speaker at numerous conferences and seminars. Mr. Case has received The Wall Street Journal Achievement Award, and is listed in Who's Who in American Business. Mr. Case holds an MBA degree from the University of Southern California and he also graduated with a seminary Masters degree from Trinity Evangelical Divinity School, summa cum laude. He and his wife, Linda, have started several new churches that remain strong today, and have served as interim pastors of troubled churches, bringing reconciliation and new vision to these situations. Currently, he and Linda are leading a fruitful, Christian marriage retreat ministry,"All for Jesus Living Waters Retreat Ministry." In addition to the retreats they personally lead, they now have over 16 couples trained as leaders who are conducting marriage retreats in their respective geographies around the country.
Advertisement