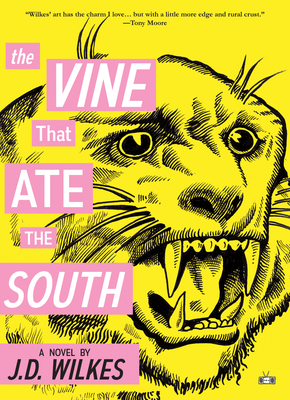 The Vine That Ate the South
Paperback

* Individual store prices may vary.
Other Editions of This Title:
Digital Audiobook (6/15/2017)
Description
Wilkes' debut is a rich and heartfelt yarn that resonates as deeply as his music. --Kirkus Reviews
With the energy, wit, and singularity of vision that have earned him a reputation as a celebrated and charismatic musician, The Vine That Ate the South announces J.D. Wilkes as an accomplished storyteller on a surreal, Homeric voyage that strikes at the very heart of American mythology.
In a forgotten corner of western Kentucky lies a haunted forest referred to locally as The Deadening, where vampire cults roam wild and time is immaterial. Our protagonist and his accomplice--the one and only, Carver Canute--set out down the Old Spur Line in search of the legendary Kudzu House, where an old couple is purported to have been swallowed whole by a hungry vine. Their quest leads them face to face with albino panthers, Great Dane-riding girls, protective property owners, and just about every American folk-demon ever, while forcing the protagonist to finally take stock of his relationship with his father and the man's mysterious disappearance.
The Vine That Ate the South is a mesmerizing fantasia where Wilkes ambitiously grapples with the contradictions of the contemporary American South while subversively considering how well we know our own family and friends.
It's a relentlessly fun novel, the literary equivalent of a country-punk album that grabs you and refuses to let go. Wilkes has a perfect ear for the dialect of Kentucky, and his writing is so bright, you can almost see every abandoned shack, every kudzu-covered tree. Sure, it's bizarre, and at points almost gleefully obscene, but it's undeniably one of the smartest, most original Southern Gothic novels to come along in years. --NPR
Two Dollar Radio, 9781937512552, 218pp.
Publication Date: March 14, 2017
About the Author
J.D. Wilkes is an American visual artist, musician, author, filmmaker, and Kentucky Colonel. He is also an avid purveyor of traditional American music and an accomplished musician. But he is perhaps best known as the charismatic frontman for the Legendary Shack Shakers, a band that has been described as a "dynamite group" by author/fan Stephen King, and whose music has been featured on the Grammy-nominated soundtrack for HBO's TrueBlood. Wilkes is the author of Barn Dances and Jamborees Across Kentucky, an exploration of his state's rich folk music heritage.