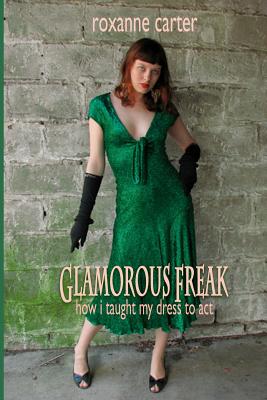 Glamorous Freak
How I Taught My Dress To Act: (black and white edition)
Paperback

* Individual store prices may vary.
Other Editions of This Title:
Paperback (3/26/2012)
Description
"AN EXCITING NEW TALENT" - Robert Coover, author of Noir Finalist in Chiasmus Press First Book Competition, Starcherone Press Prize for Innovative Fiction, and Subito Press Annual Book Competition. Recipient of a Creative Arts Council Grant at Brown University. This book is also available in full color and ebook. "Stylish blogger, gifted wordsmith, linguistic cinematographer, Roxanne Carter herein charges hard and fast past the current borders of the book and into fresh textual territories all her own. Glamorous Freak is wonderful and wonderfully unsettling work. Reading it you will not be indifferent. Reading it you will listen and listening you will, with Carter, 'be able to recognize the flickering hurricane knocking tree limbs against the door.'" - Laird Hunt, author of The Paris Stories "Roxanne Carter creates a figure of grave and astonishing intelligence, sensitivity and perception: the woman at once so near and so far, so here and so there, haunted seemingly by another narrative, just outside of our reach, and there's something very beautiful about that. And we're astonished that so much longing and mystery can be held in this way in one book. I'd follow this wom aninto any night, into any film, into any day." - Carole Maso, author of Disgrace and AVA Roxanne Carter's sparkling debut fiction is a playful innovative engagement with the mirrored self, stylishly written, wittily framed. An exciting new talent. - Robert Coover, author of Noir.
Jaded Ibis Press, 9781937543112, 154pp.
Publication Date: October 1, 2012
About the Author
Roxanne Carter received her MFA in Literary Arts from Brown University in 2008, and a Ph.D. in Creative Writing from the University of Denver in 2011. Her work has appeared in Tarpaulin Sky, Fact-Simile, Drunken Boat, La Petite Zine, and Sidebrow among others. She lives in Ohio, where she blogs at www.persephassa.com