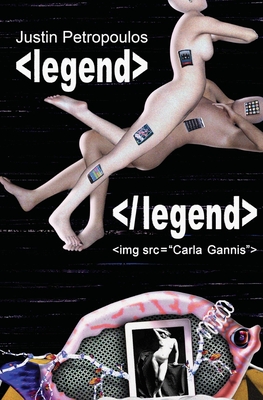 legend
poetry + images
Paperback

* Individual store prices may vary.
Description
An extraordinary collaboration between poet and artist, this book is a collection of poems constructed by Justin Petropoulos via manipulation and redaction of Edna Keaton's The Book of Earths, published in 1928, a comprehensive history of theories about the shape of the Earth and its collective folklore. This iteration - one of multiple manifestations - includes poetry of various lengths and forms, organized as titled chapters. Ink drawings on paper produced by Carla Gannis in response to audio recordings of each poem are further informed by many of the original illustrations in The Book of Earths, most of which are variations of Earth maps. Illustrated plates from The Book of Earths Redacted text page, Word processed page, drawing done in response to recordings of recorded readings of the poems.
Jaded Ibis Press, 9781937543419, 138pp.
Publication Date: August 6, 2013
About the Author
Carla Gannis has exhibited in solo and group art exhibitions nationally and internationally. Her solo exhibitions include "The Multiversal Hippozoonomadon & Prismenagerie" at Pablo's Birthday Gallery, New York, NY; "The Non-Facial Recognition Project" at Edelman Gallery, New York, NY; and "Jezebel" at The Boulder Museum of Art, Boulder, CO. Gannis is the recipient of several awards, including a 2005 New York Foundation for the Arts (NYFA) Grant in Computer Arts, an Emerge 7 Fellowship from the Aljira Art Center, and a Chashama AREA Visual Arts Studio Award. Features on Gannis's work have appeared in Art Critical, NY Arts Magazine, Animal Magazine, and Collezioni Edge, and her work has been reviewed in The New York Times, The Los Angeles Times, The Daily News, and The Village Voice. Gannis holds an MFA in Painting from Boston University and is Assistant Chair of Digital Arts at Pratt Institute. She lives in Brooklyn, New York with poet Justin Petropoulos. Justin Petropoulos is the author of the poetry collection, Eminent Domain, selected by Anne Waldman for the 2010 Marsh Hawk Press Poetry Prize. His poems have appeared in American Letters & Commentary, Borderlands: Texas Poetry Review, Columbia Poetry Review, Crab Creek Review, Gulf Coast, Mandorla, Portland Review, and most recently in Spinning Jenny. Petropoulos holds an MFA in Creative Writing from Indiana University. He co-curated "Triptych Readings" from 2010 to 2011 and was a guest blogger for Bryant Park's summer poetry reading series, "Word for Word". Currently Petropoulos is the site director of an after-school program for elementary age children and an adjunct faculty member at New Jersey City University. He lives in Brooklyn, New York with interdisciplinary artist Carla Gannis.