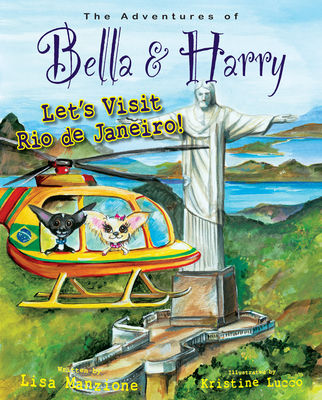 Let's Visit Rio de Janeiro! (Hardcover)
Adventures of Bella & Harry
Bella & Harry LLC, 9781937616571, 35pp.
Publication Date: October 15, 2015
* Individual store prices may vary.
Description
Join sibling Chihuahuas Bella and Harry as they travel to Rio de Janeiro, Brazil, and visit Christ the Redeemer, Copacabana Beach, Sugarloaf Mountain, and other fun places. Along the way, sample local cuisine (such as barbecued meat and cheese bread) and learn some basic local phrases.
The Adventures of Bella and Harry picture book series chronicles the escapades of a pup named Bella and her little brother Harry, who travel the world exploring the sights and sounds of new, exciting cities. The series is an informative, interactive, and exciting way to introduce children to travel, different countries, customs, history, and landmarks. The educational value of this book is cleverly disguised amidst dozens of illustrated pages with characters that are sure to win the hearts of young readers.
Traveling the world with these two cute and cuddly Chihuahuas allows young readers to gain an appreciation of the world and its cultural diversity. Happy Travels from Bella Boo and Harry too