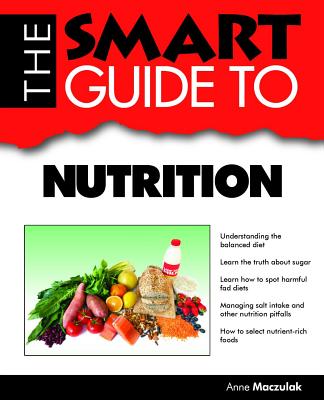 The Smart Guide to Nutrition
Paperback

* Individual store prices may vary.
Other Editions of This Title:
Paperback (10/25/2014)
Description
The Book that Teaches You the Basics of Nutrition, so You Can Make the Right Choices in Choosing Healthy Foods and Learn to Avoid Common Eating Mistakes The Smart Guide to Nutrition gives you all the essential information for understanding how your body uses nutrients, where nutrients go in the body, and how you can optimize your dietary choices and calories. Author Anne Maczulak, PhD in Nutrition, covers the main topics of nutrition, starting with the essential nutrients needed by all cells and building your knowledge of whole body nutrition. This Smart Guide offers a quick reference to the carbohydrates, fats, proteins, vitamins, and minerals your body needs as well as water and energy. By reading this Smart Guide, you will learn how to make sound food choices for staying healthy, boosting immunity, fighting disease, and aging. The Smart Guide to Nutrition introduces you to the essential, or required, nutrients. It explains exactly how your body uses these nutrients. By learning the truth about how your body's cells use nutrients, you can make better choices in avoiding dangerous fad diets, in considering certain processed foods, and in knowing the facts about dietary supplements. In this Smart Guide you will learn: - How the digestive system works - The role of carbohydrates, fats, and proteins in your body - How vitamins and minerals work in body chemistry - The vital role of water in nutrition - Calories, fat, and obesity-Our diet's triple threat - The body's biochemistry - Nutrition in children and the elderly - Nutrition for special needs, such as fighting disease - The pitfalls of nutrition misinformation, including fad diets, vitamin mega-doses, and weight-loss gimmicks - A useful comparison of "western" and "eastern" diets - Things you need to know when following a vegetarian, vegan, raw, or macrobiotic diet The Smart Guide to Nutrition gives you the facts on nutrients and nutrition. With this book as your guide, you can dispel food myths and steer clear of harmful diets, products, and pitches. Learn nutrition the right way, by beginning with the facts of nutrient chemistry in your body. Diets may come into and out of fashion, but the body's nutrition never changes. This Smart Guide will help you know the basics of human nutrition.
Smart Guide Publications Inc., 9781937636388, 301pp.
Publication Date: April 1, 2012
About the Author
Anne Maczulak is the author of more than 10 books on biology and ecology, including "Allies and Enemies: How the World Depends on Bacteria," " The Five-Second Rule and Other Myths About Germs," "The Smart Guide to Biology," and "The Smart Guide to Fighting Infections." Anne has contributed to articles on germophobia in "Psychology Today" and has been a regular guest on television and radio, speaking to viewers about the good and bad microbes that lurk in households. As a regular guest expert on Martha Stewart Living Radio, she answers questions on disinfectants, infection, food-borne germs, and other topics. She lives in Santa Barbara, California.
or
Not Currently Available for Direct Purchase