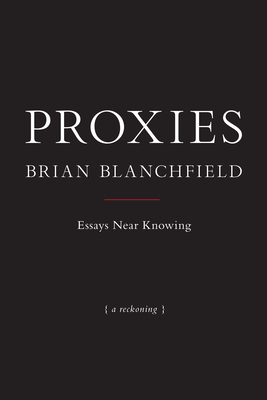 Proxies (Paperback)
Essays Near Knowing
Nightboat Books, 9781937658458, 200pp.
Publication Date: April 7, 2016
* Individual store prices may vary.
Description
Past compunction, expressly unbeholden, these twenty-four single-subject essays train focus on a startling miscellany of topics Foot Washing, Dossiers, Br er Rabbit, Housesitting, Man Roulette, the Locus Amoenus that begin to unpack the essayist himself and his life's rotating concerns: sex and sexuality, poetry and poetics, subject positions in American labor (not excluding academia), and his upbringing in working-class, Primitive Baptist, central-piedmont North Carolina.
In Proxies an original constraint, a total suppression of recourse to authoritative sources, engineers Brian Blanchfield's disarming mode of independent intellection. The repeatable experiment to draw only from what he knows, estimates, remembers, and misremembers about the subject at hand often opens onto an unusually candid assessment of self and situation. The project's driving impulse, courting error, peculiar in an era of crowd-sourced Wiki-knowledge, is at least as old as the one Montaigne had when, putting all the books back on the shelf, he asked, What do I know?
About the Author
BRIAN BLANCHFIELD is the author of two books of poetry, Not Even Then and A Several World, which received the 2014 James Laughlin Award and was a longlist finalist for the National Book Award. His essays have appeared in Harper's, Brick, Guernica, Conjunctions, and other magazines. He is an editor of Fence and the host of Speedway and Swan on KXCI 91.3 in Tucson.