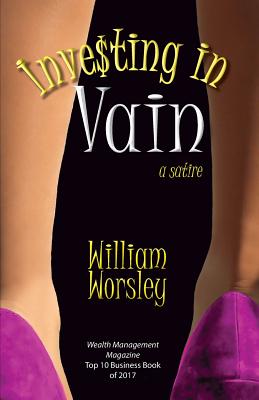 Investing in Vain (Paperback)
Distinction Press, 9781937667177, 234pp.
Publication Date: August 1, 2017
* Individual store prices may vary.
Description
Portraying a world of political correctness run amok, Investing in Vain is a modern satire that distills the follies of our time with memorable one-liners, jarring juxtapositions, colorful images, and deadpan humor that will have you laughing
out loud.
When Bruce Benson, a nerdy quantitative analyst at Quandary Capital, stumbles upon the last great secret for beating the stock market, his entire world is turned upside down. Forced to ee, he assumes the guise of a transgender to
work at Vain Capital, a Washington rm promoting morality-based investing to its self-righteous clients. There he joins buxom Alison Hartswell in her frustrating search for gay money managers to help re-elect the governor of California.
How does Bruce then become entangled in an international power struggle that threatens to ignite World War III? Why are agents from the U.S., Russia, and Quandary Capital out to get him?

Transgender investment managers, Russian skullduggery, asset managers catering to the latest in social umbrage, and the absurd mystery underlying the ultimate stock market anomaly form elements of this riotous tale of nancial
markets, politics, and modern mores. Find out whether Bruce can save the day for everyone -- in high heels.Beatrice Pillsbury von Vain, founder of Vain Capital, is in big trouble. Her underperforming Washington firm, which promotes socially responsible investing to a world consumed by political correctness, has lost yet another conscience-driven client. But two new clients, California and Russia, soon show up. California wants Vain Capital to set up a fund of gay money managers to help its governor get re-elected. Russia wants to hide some money.
Meanwhile, Bruce Benson, an awkward analyst at Quandary Capital, has already grown suspicious about his highly secretive firm when he is visited by his friend Lee Yong, who has just started working at Vain Capital. After Yong asks pointed questions, Bruce does some more digging, only to discover that Quandary Capital is a massive fraud.
Bruce, forced to flee for his life, is given refuge by Yong, who persuades him to work in the guise of a transgender at Vain Capital, which desperately needs one for its gay fund. Transgendered Bruce, calling himself Brucilla, joins Yong and his boss, the overly endowed Alison Hartswell, in her frustrating quest to find gay money managers, and promptly falls madly in love with her.
Things begin to unravel when the Feds detect Russian money going to the gay fund just as Russia invades Estonia. Brucilla is thrust into the center of an international crisis. Agents from the U.S., Russia, and Quandary Capital are out to get him. While rescuing himself, Vain Capital, and his blossoming love for Alison, can Bruce also save the world - in high heels?