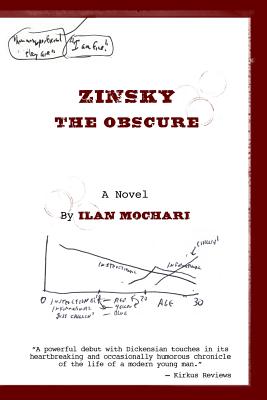 Zinsky the Obscure
Paperback

* Individual store prices may vary.
Description
Thirty-year-old Manhattan bachelor Ariel Zinsky is still recovering from his abusive childhood when he realizes no one -- including his few living relatives -- is truly interested in his narrative. While they numb themselves with the latest celebrity rehab story or the third-world atrocities replayed without ceasing on cable news, he sets out to write his autobiography as an exercise in his own self-medication, recasting himself as the hero in a coming-of-age story. Fans of A CONFEDERACY OF DUNCES and THE PERKS OF BEING A WALLFLOWER will relate to this tale of overcoming your childhood's traumas, and the world's indifference to them.
Fomite, 9781937677114, 362pp.
Publication Date: April 15, 2013
About the Author
Ilan Mochari's short stories have appeared in KEYHOLE, STYMIE, OYSTERS & CHOCOLATE, and RUTHIE'S CLUB. Another short story was a finalist in a GLIMMER TRAIN competition. He is a contributor to COGNOSCENTI, the online magazine for Boston's NPR news station. He has a B.A. in English from Yale. He used it to wait tables for nine years at various restaurants in the Boston area.