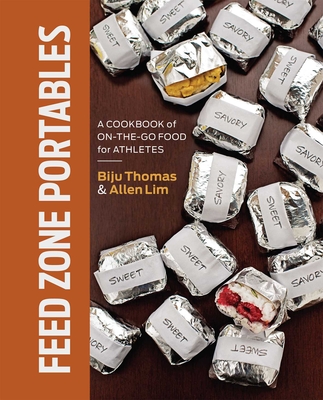 Feed Zone Portables
A Cookbook of On-The-Go Food for Athletes
Hardcover

* Individual store prices may vary.
Description
Feed Zone Portables offers 75 all-new, easy, healthy recipes for portable snacks that taste great during exercise.
When Dr. Allen Lim left the lab to work with pro cyclists, he found athletes weary of processed bars and gels and the same old pasta. So Lim joined professional chef Biju Thomas to make eating delicious and practical. When the menu changed, no one could argue with the race results. Their groundbreaking Feed Zone Cookbook brought the favorite recipes of the pros to everyday athletes.
In their new cookbook Feed Zone Portables, Chef Biju and Dr. Lim offer 75 all-new portable food recipes for cyclists, runners, triathletes, mountain bikers, climbers, hikers, and backpackers. Each real food recipe is simple, delicious during exercise, easy to make--and ready to go on your next ride, run, climb, hike, road trip, or sporting event.
Feed Zone Portables expands on the most popular features of The Feed Zone Cookbook with more quick and easy recipes for athletes, beautiful full-color photographs of every dish, complete nutrition data, tips on why these are the best foods for athletes, and time-saving ways on how to cook real food every day.
In his introduction to Feed Zone Portables, Dr. Lim shows why real food is a more easily digestible, higher-performance source of energy than prepackaged fuel products. He shows how much athletes really need to eat and drink at different exercise intensities and in cold or hot weather. Because the body burns solid and liquid foods differently, Lim defines a new approach for athletes to drink for hydration and eat real food for energy.
With the recipes, ideas, and guidance in Feed Zone Portables, athletes will nourish better performance with real food and learn to prepare their own creations at home or on the go. Feed Zone Portables includes
75 all-new recipes that taste great during exercise: Rice Cakes, Two-Bite Pies, Griddle Cakes, Waffles, Baked Eggs, Sticky Bites, Rice Balls, Ride Sandwiches, Baked Cakes, and Cookies
A smart introduction on how real food works better for athletes
More than 50 no-fuss gluten-free recipes, including great-tasting cookies and cakes
More than 50 vegetarian recipes
Praise For Feed Zone Portables: A Cookbook of On-The-Go Food for Athletes…
Praise for The Feed Zone Cookbook

"The Feed Zone Cookbook features unique, simple recipes for quick meals that will help fuel your workouts and speed recovery." — Men's Journal "The beauty of The Feed Zone Cookbook is that it is practical and based on real-life experience—not just theory...Let The Feed Zone Cookbook help you find your way into the kitchen with enthusiasm." — Active.com "[The Feed Zone Cookbook is] packed with recipes that will not only offer healthy alternatives, but actually taste good as well." — NBCSports.com "The chapter on homemade energy bars, which are made from rice and eggs and other savories, is probably the single most unique feature. However, there's also tons of straightforward meal recipes (breakfast, lunch, and dinner) that are both quick and easy to prepare." — Outside magazine "The foods described are intentionally simple to prepare, impressively flavorful, easy to digest…Just honest to goodness recipes made with real food." — BikeRadar "The Feed Zone Cookbook is allowing us to have our cake and eat it too…Packed with tasty recipes." — Paved magazine "The Feed Zone Cookbook is the ultimate guide for triathletes who want to support their training with delicious, wholesome food." — Triathlete magazine "Dr. Lim's experience is just the kind of thing us serious athletes look for in a cookbook author….For the athlete on your list who trains hard and appreciates fresh, wholesome food and creative fusions of flavors, The Feed Zone Cookbook won't disappoint." — LAVA magazine "[A cookbook] geared towards athletes that actually has recipes that make you excited to hit the kitchen…Creative, beautiful, and inspiring…straightforward, yummy, and yes, actually good for us athletes." — 3/GO magazine "Biju and Allen actually got me into the kitchen, cooking these recipes." — Levi Leipheimer, professional cyclist for Omega Pharma-Quickstep, from his foreword to The Feed Zone Cookbook "Biju makes cooking high-quality, nourishing food easy. His recipes are mind-blowingly simple, but their flavors and quality are as high as a five-star restaurant. Biju will inspire you to want to cook." — Matthew Busche, professional cyclist for Team RadioShack Nissan Trek and U.S. national road cycling champion "Allen Lim has helped me fill my gas tank for many years: everything from breakfast burritos in Georgia to rice cakes and scrambled eggs in the Alps. Some of Lim's foods are scientific and others just feel good, but one ingredient was always present: passion from the Asian Equation." — Christian Vande Velde, professional cyclist for Team Garmin-Sharp 
VeloPress, 9781937715007, 288pp.
Publication Date: May 7, 2013
About the Author
Dr. Allen Lim and chef Biju Thomas are the authors of the best-selling Feed Zone Series of cookbooks including The Feed Zone Cookbook, Feed Zone Portables, and Feed Zone Table. Biju Thomas is the chef behind the menus of many successful restaurants in Denver and Boulder, Colorado. He has worked closely with professional cyclists including Taylor Phinney, Tejay Van Garderen, Levi Leipheimer, and Christian Vande Velde to improve their eating habits for better performance. Biju is also a contributor to MapMyFitness, one of the largest social networks in the sports industry. Allen Lim, PhD, over his career as a sports physiologist, has worked closely with the most powerful American cycling teams to improve all aspects of their training, nutrition, and racing. He founded Skratch Labs, the first active nourishment company which produces all-natural drink mixes and foods for athletes.