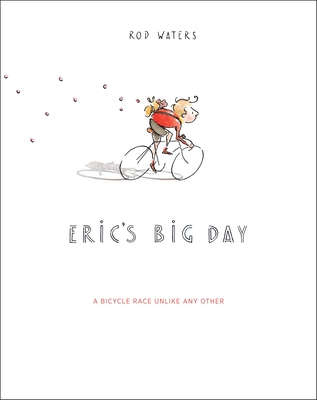 Eric's Big Day
A Bicycle Race Unlike Any Other
Hardcover

* Individual store prices may vary.
Description
Eric's Big Day is an adorable story with charming illustrations that even adults can appreciate. A beautifully illustrated, up-tempo adventure that teaches the value of helping others. - Bicycling magazine
It's a big day for Eric, the day of the bike race. His knapsack packed, Eric rides to Emily's for a picnic near the finish. But what's that splashing in the river? A very wet bike racer Who's that sobbing by the street sign? A lost rider
Eric pauses to aid wayward bike racers with useful items from his knapsack, but will he be late to see the finish? The cheers of a crowd surprise Eric, but where oh where is Emily?
Eric's Big Day is a colorful adventure on wheels for children 4-8. Full of fun and authentic cycling flavor, you and your kids will enjoy this lighthearted tale of a boy who helps others and finds himself a winner, all while simply meeting a friend for a picnic.
VeloPress, 9781937715236, 28pp.
Publication Date: April 8, 2014
About the Author
Rod Waters is a writer and illustrator based in London and has worked with The Folio Society, The Spectator, The Independent, Nelson Thornes, The N.H.S., The Tower of London, Virgin Atlantic, Clifton Nurseries, The Surveyor, and MJ Magazine. He holds a Guinness World Record for cycling between Paris and London in just over 14 hours in 1997.