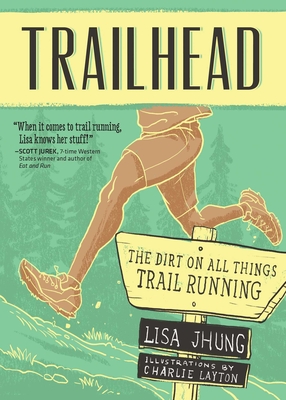 Trailhead: The Dirt on All Things Trail Running (Paperback)
The Dirt on All Things Trail Running
VeloPress, 9781937715328, 264pp.
Publication Date: April 9, 2015
Description
"Trailhead" is a witty, fun guide to all things trail running. Veteran trail runner, triathlete, and adventure racer Lisa Jhung offers this illustrated pocket guide to all runners curious about running off road or wanting to run farther into the backcountry. She offers authoritative advice on everything from how to find good trails to run, how to choose the best shoes and clothing, how to carry enough water, and how to stay safe from wildlife and weather. "Trailhead" includes: The allure: Why trail running is good for body and mindThe essentials: Finding good trails, choosing the best trail running gear, handling trail and weather conditions, what you need to know about nutrition and hydrationSafety: How to treat (and avoid) common trail running injuries, first aid, animal safetyEtiquette: Right of way, preserving the trail, when nature callsCompany: Running alone, with friends, with dogs--or burros Stronger, faster: At-home exercises to enhance your runningGoing long: Preparing for longer trail runs or trail races
"Trailhead" is a smart, entertaining read as well as a thorough resource for everyone from aspiring trail runners to those looking to get the most out of every trail run, whether in a city park or on a mountain adventure.
About the Author
Lisa Jhung is a veteran trail runner, triathlete, adventure racer, and journalist. She is a contributing editor for "Runner's World" and is the "Runner's World" trail running columnist. Lisa has also worked as an editor at "Trail Runner" magazine and was a co-founding editor of "Adventure Sports" magazine. Her features, training stories, gear reviews, profiles and travel pieces have appeared in "Backpacker," "Details," "Fitness," "Inside Triathlon," "Men's Journal," "Runner's World," "Shape," "Outside," "Women's Running," and "Triathlete."
Advertisement