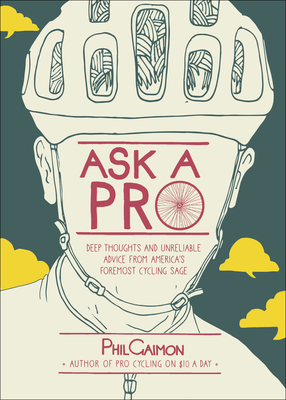 Ask a Pro
Deep Thoughts and Unreliable Advice from America's Foremost Cycling Sage
Hardcover

* Individual store prices may vary.
Other Editions of This Title:
MP3 CD (5/9/2017)
MP3 CD (5/9/2017)
Compact Disc (5/9/2017)
Compact Disc (5/9/2017)
Description
Phil Gaimon's Ask a Pro answers every question you've always wanted to ask about pro cycling...sort of. Gaimon gathers the best of his popular Q&A column--and pokes fun at his younger self.
Despite the howling protests from his peers, no one's ever been more willing to spill the beans on what it's really like inside the pro cycling peloton than the sarcastic scribe Phil Gaimon. Building on the outrageous success of his hilarious 2014 debut, Pro Cycling on $10 a Day: From Fat Kid to Euro Pro, Gaimon gathers the absolute gems from his monthly Q&A feature column in VeloNews magazine into his new book, Ask a Pro: Deep Thoughts and Unreliable Advice from America's Foremost Cycling Sage, adding a dose of fresh commentary and even more acerbic and sharp-eyed insights.
With six years of material to work with--including his incredible rise into the pro ranks, the devastating loss of his contract for 2015, and his bold return to the Big League--Gaimon covers every possible topic from the team dinner table to the toilet with plenty of stops along the way. Gaimon offers wise-ass (and sometimes earnest) answers to fan questions like:
- How much chamois cream should I use?
- I've started shaving my legs. How can I be accepted by my friends?
- What do you do to protect yourself when you know you're about to crash?
- How many bikes does my husband really need?
- What's the best victory celebration? Do you practice yours?
- In women's cycling, what is the proper definition of a pro?
- What do you say to someone if they honk or almost hit you?
- Do you name your bikes?
- What do pros think when they see a recreational cyclist in a full pro kit or riding a pro-level bike?
- Can you take your bike apart and put it back together?
- How bad does the weather have to be to call off a training ride?
- How do you know when it's time to change a tire?
- When you're in a breakaway all day, do riders form a future friendship?
- Riders keep complaining about "unsafe" weather at races. When did pro cyclists turn into such wussies?
- How do the pros define a "crash"?
Gaimon wields his outsider's wit to cast a cock-eyed gaze at the peculiar manners, mores, and traditions that make the medieval sport of cycling so irresistible to watch. Ask a Pro includes new resources from Gaimon, too, including his Cookie Map of America, dubious advice on winning the race buffet, a cautionary guide for host housing, Phil's pre-race warm-up routine, and a celebrity baker's recipe for The Phil Cookie.
VeloPress, 9781937715724, 216pp.
Publication Date: April 3, 2017
About the Author
Phil Gaimon is a cyclist, writer, and entrepreneur who retired from laziness and computer games in 2004 in favor of riding a bike to lose weight. On a whim, he started racing and soon discovered that he was a natural. Phil advanced rapidly through the amateur ranks and turned professional in his second full year, still ignorant of a century of cycling etiquette. He slowly learned the rules and clawed his way to the top of the American pro ranks, joining Garmin-Sharp in 2014 only to slip back into the domestic ranks for the 2015 season. Proving himself once again, Gaimon rode his way back into the ProTour, joining Cannondale-Drapac in 2016. He maintains a website, Philthethrill.net, where he chronicles his ceaseless pursuit of the best cookies and milk in America.
or
Not Currently Available for Direct Purchase