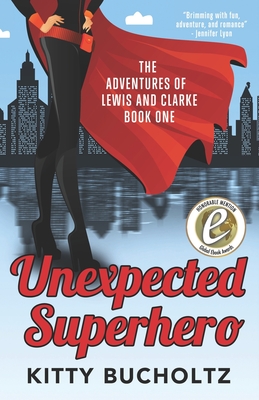 Unexpected Superhero
Paperback

* Individual store prices may vary.
Description
From Wallflower...
Newlywed Tori Lewis wants nothing more than a quiet life with her hunky new husband. She doesn't expect to walk into a robbery right after her honeymoon. But even more shocking is her discovery that she stopped the gunman with a super power How did that happen?
Undercover superhero Joe Clarke and his team are investigating a string of missing children. When the father of a lost boy turns up dead, the team must decide if the death is related to the disappearances - or to the super villain group, The Nine.
...To Super Power
Meanwhile, Tori decides to try out this superhero thing. She needs a mentor, so she asks Superhero X to help, the only superhero she's ever met - and the only one she's ever kissed. As they work together, Tori worries that the superhero is getting too familiar. How can she be attracted to one man when she's wildly in love with another?
Will she have to choose between her husband and her destiny? No one warned her that love would be so complicated
"Unexpected Superhero brims with fun, adventure, and romance in the pursuit of justice Don't miss this riveting start to an exciting new series in the urban fantasy genre " - Jennifer Lyon, author of Blood Magic
Daydreamer Entertainment, 9781937719050, 320pp.
Publication Date: June 22, 2013
About the Author
Kitty Bucholtz grew up forty miles east of Traverse City, Michigan - a town that is a smaller but surprisingly similar version of Double Bay, Michigan, the setting for this book. She went to college in Traverse City, met and married the love of her life, and waved goodbye to everything she knew when she and her husband John struck out for parts unknown. Their adventures included going back to school, changing careers, and traveling Down Under. They spent three years in Sydney, Australia, where Kitty earned her M.A. in Creative Writing from University of Technology, Sydney, while John made a penguin named Mumble dance. Kitty now writes wherever John is working on a film. Only God knows where they'll wind up next - but they're pretty sure it will be another cool chapter in their adventure!