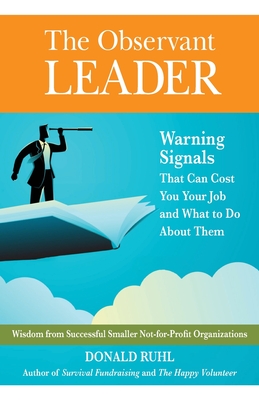 The Observant Leader
Paperback

* Individual store prices may vary.
Description
The leaders of smaller not-for-profit organizations, because of their limited resources, have to pay continuing attention to issues of the first importance. The Observant Leader provides you with insights into the inner workings of successful leadership in smaller not-for-profit organizations that you can utilize in your own practice as a successful leader irrespective of the organizational setting in which you work.
"Smaller not-for-profit organizations, which include many chambers of commerce, cannot afford periods of poor or average performance. They must be 'on their game' all of the time. In this book, Dr. Donald Ruhl, who has vast experience as a leader 'in the trenches, ' provides an insider's insights about how to keep your job, lead with excellence, and have a real impact in helping your organization achieve its goals. If you want to be a better leader, read this book "
-Joseph Bevilacqua, president/CEO of the Merrimack Valley Chamber of Commerce (Massachusetts) and past chairman of the New England Association of Chamber of Commerce Executives
"In the modern era, longevity among leaders, in all fields, is as rare as finding dinosaur bones in your backyard. The keys to a successful career are clearly outlined in The Observant Leader, which provides priceless nuggets of wisdom to individuals in leadership positions in organizations of all sizes."
-From the foreword by Barry Gorman, legendary head soccer coach (1987-2009) at Penn State and past president of the National Soccer Coaches Association of America
Don & Ellen Ruhl, 9781937721756, 172pp.
Publication Date: March 1, 2021