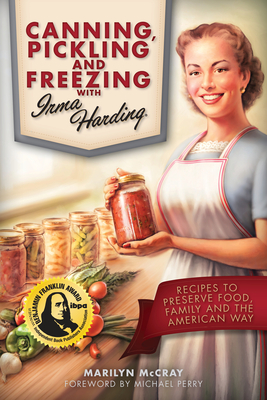 Canning, Pickling, and Freezing with Irma Harding (Paperback)
Recipes to Preserve Food, Family and the American Way
Octane Press, 9781937747176, 256pp.
Publication Date: June 1, 2014
* Individual store prices may vary.
Description
Preserving your own food is a fundamental part of a healthy lifestyle. Not only do you source produce from your garden, farmer's market, or local shop, you can also ensure the preparation is wholesome and the ingredients are pure. In this detailed guide, 1950s icon Irma Harding offers her firm guidance on how to properly prepare and preserve your own foods. The book explains how to preserve foods by canning, pickling, freezing, smoking and curing fresh vegetables and meats. Step-by-step techniques and tasty recipes from food artisans in Austin, Texas, Wisconsin, Michigan and other places are included. Along the way, Irma Harding provides her no-nonsense advice and some colorful images and a brief history of her checkered red cloth past. This colorful book delivers both the techniques and recipes necessary to keep their food local and fresh and the life path direct and true.
or
Not Currently Available for Direct Purchase