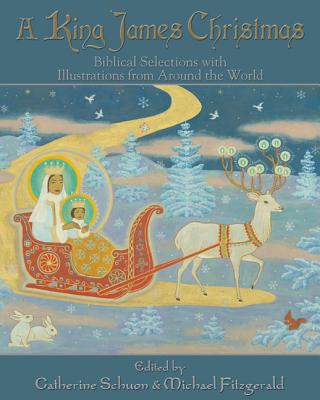 A King James Christmas: Biblical Selections with Illustrations from Around the World (Hardcover)
Biblical Selections with Illustrations from Around the World
Wisdom Tales, 9781937786038, 68pp.
Publication Date: October 16, 2012
* Individual store prices may vary.
or
Not Currently Available for Direct Purchase
Description
Excerpts from the King James Version of the Gospels are woven together in an easy-to-follow story of Jesus birth and infancy, including the Annunciation, the Visitation, the adoration of the Magi, the presentation of Jesus in the temple, and the flight into Egypt. Full color.
About the Author
Catherine SchuonCatherineSchuon was born in Bern, Switzerland, in 1924 and is a gifted artist andtranslator, fluent in English, German, French, Spanish, and Italian; nine ofher paintings are included in this collection. She has collected children'sbooks her entire life and is dedicated to helping children appreciate thebeauty of the world's religions, which inspired her to co-edit A King JamesChristmas. As thedaughter of a career Swiss diplomat she spent her youth in Europe, NorthAfrica, and South America, during which time she excelled at languages andpainting. In May 1949, she married author Frithjof Schuon and began translatinghis correspondence into English and Spanish. Catherine later edited a volume onart from her husband's writings titled Art from the Sacred to the Profane: East and West. In 1980, the Schuon's moved from Lake Geneva to southernIndiana, where Catherine still lives to this day. Fitzgerald, Michael Oren Michael Fitzgerald is the author and editor of over a dozen books that have received more than two dozen awards, including the prestigious ForeWord Book of the Year Award, the Ben Franklin Award, and the USA Best Books Award. Fitzgerald's award-winning books include Christian Spirit, Foundations of Christian Art by Titus Burckhardt, and Sermon of All Creation: Christians on Nature. His books have been published in six different languages and at least ten of his books and two documentary films produced by him are used in university classes. Michael and his wife, award-winning editor Judith Fitzgerald, live outside Bloomington, Indiana and spend their time surrounded by their children and grandchildren, who are at the root of their desire to produce quality books for children and young adults.
Advertisement