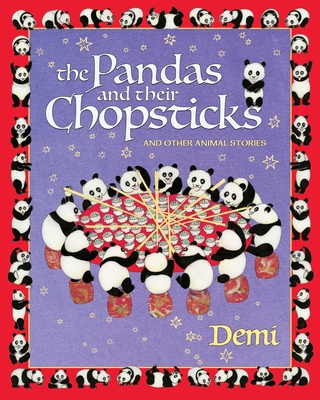 The Pandas and Their Chopsticks (Hardcover)
And Other Animal Stories
Wisdom Tales, 9781937786168, 28pp.
Publication Date: October 1, 2014
* Individual store prices may vary.
Description
Eating bamboo shoots with chopsticks three feet long? Impossible, you say.Not if you are a playful panda and learn to share and work together with your friends In her beautifully illustrated new book, award-winning author, Demi, presents ten classic animal stories, each containing important moral lessons for little hearts and minds to absorb. Cunning kitties, helpful hummingbirds, talkative turtles, and hasty hedgehogs, all bring these meaningful fables to life. Through her magical illustrations and whimsical storytelling, Demi teaches the importance of being humble, the dangers of being too proud, the importance of generosity and sharing, and how everyone, no matter how small, has a part to play in life.
About the Author
Demi is the award-winning author of over 130 bestselling children s books. Her titles have sold over half a million copies. The Empty Pot was selected by former First Lady Barbara Bush as one of the books to be read on the ABC Radio Network Program Mrs. Bush s Story Time, sponsored by the Children s Literacy Initiative. Demi s book Gandhi was named a New York Times Best Illustrated Book and received an Oppenheim Toy Portfolio Platinum Award. In addition, she represented the United States at the First International Children s Book Conference in Beijing, China. She lives with her husband in Yarrow Point, WA."