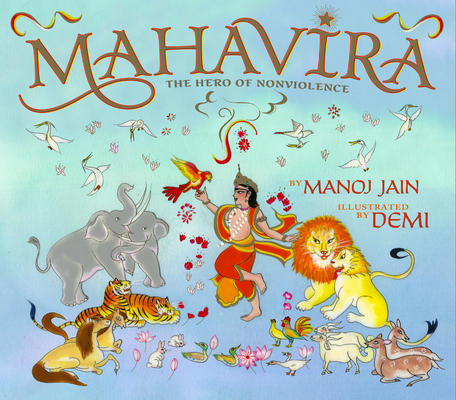 Mahavira (Hardcover)
The Hero of Nonviolence
Wisdom Tales, 9781937786212, 28pp.
Publication Date: August 15, 2014
* Individual store prices may vary.
Description
Imagine a world where no one gets hurt, a world where no one is teased or bullied, a world where there is no fear or anger. Six centuries before the birth of Jesus, in the faraway land of India, there lived a great spiritual teacher name Mahavira (which means very brave ), who imagined just such a world. He showed kindness to every living being and emphasized the practice of nonviolence, compassion, and forgiveness. The religion of Mahavira was called Jainism. Mahavira was born a prince, but because he had such deep love and respect for all living creatures, he renounced his wealth and power to become a wandering monk. The Jain teachings of Mahavira became very popular. He taught three important lessons: that one should have love and compassion for all living things; that one should not be too prideful of one's own point of view because the truth has many sides; and that one should not be greedy and should avoid attachment to possessions. Today Jainism has more than 10 million adherents throughout the world. In following the example of Mahavira, Jains practice a vegetarian diet and are committed to sound ecological and environmental practices. Mahavira's lessons on nonviolence and compassion still have a profound impact around the globe, and he is credited with influencing Mahatma Gandhi, who in turn inspired Martin Luther King, Jr. Beautifully brought to life by the delicate paintings of Demi and the powerful yet simple narrative of nationally recognized writer, Manoj Jain, the story of Mahavira's life will provide a shining example of how one spiritual teacher's noble ideals can echo throughout the ages.
About the Author
Manoj Jain is a physician and widely published writer on both medical and faith-based subjects. He is a frequent contributor to the Washington Post and the Huffington Post, and his work has also appeared on NPR, CNN, and the New York Times. Committed to following Mahavira s teaching of nonviolence, Dr. Jain co-founded the annual Gandhi-King Conference with Arun Gandhi, the grandson of Mahatma Gandhi. He lives with his wife and three children in Memphis, TN. Demi is the award-winning author of over 130 bestselling children s books. Her titles have sold over half a million copies. The Empty Pot was selected by former First Lady Barbara Bush in 1990 as one of the books to be read on the ABC Radio Network Program Mrs. Bush s Story Time, sponsored by the Children s Literacy Initiative. Demi s book Gandhi was named a New York Times Best Illustrated Book and received an Oppenheim Toy Portfolio Platinum Award. In addition, she represented the United States at the First International Children s Book Conference in Beijing, China, in 1992. She lives with her husband in Yarrow Point, WA."