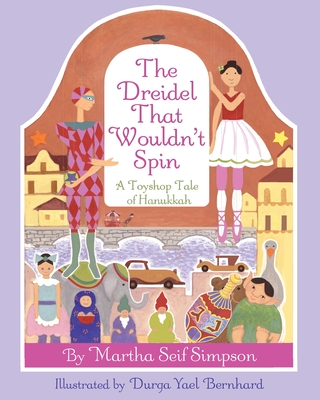 Dreidel That Wouldnt Spin
A Toyshop Tale of Hanukkah
Hardcover

* Individual store prices may vary.
Description
This dreidel doesn t work the father had cried. What do you mean? How can a dreidel not work? the shopkeeper asked. It was certainly the most beautiful spinning top the shopkeeper had ever seen, with magical golden letters on its sides. But it just would not spin for two spoiled children who insisted on owning it Later, the shopkeeper decides to try it one last time: would it spin for another child, one who carried the true spirit of Hanukkah in his heart? In this beautiful holiday story by award-winning author Martha Simpson, and brought to life by the imaginative illustrations of award-winning illustrator D. Yael Bernhard, the happiness and joy of the Hanukkah miracle will warm the heart of young and old alike with its simple message: wonders still occur for those who are ready for them. Included is a useful appendix that explains Hanukkah, and an explanation on how to play the dreidel game.
Wisdom Tales, 9781937786281, 32pp.
Publication Date: December 1, 2014
About the Author
Martha Seif Simpson is an author and children s librarian. She has served as the Head of Children s Services at the Stratford Library Association in Stratford, CT for the last twenty years. She is the author of five professional books for teachers and librarians. Her first children s book What NOT to Give Your Mom on Mother's Day was released in 2013. She lives in Hamden, CT. D. Yael Bernhard is an award-winning illustrator and author of many fiction and non-fiction books for children, including natural science titles and multicultural folktales. She is also a children s teacher of Hebrew, Judaics, and illustration. Ms. Bernhard is also a fine artist known for her religious and family-themed pieces. She lives in Shandaken, NY."