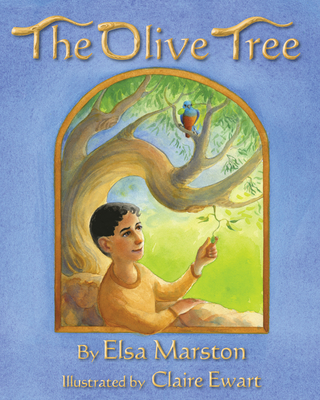 The Olive Tree (Hardcover)
Wisdom Tales, 9781937786298, 32pp.
Publication Date: January 1, 2015
* Individual store prices may vary.
Description
The house next door to Sameer's had been empty for as long as he could remember. The family had gone away when the war began. But now they were back, and he was ready to have fun with his new playmate. Together they could climb the big olive tree that overlooked both their gardens, and eat the delicious olives it produced. The only problem was that Muna, the little girl next door, didn t want to play and she didn t want to share the olives. She said they belonged to her family alone that is, until one fateful night when lightning struck the tree. Poignantly told by award-winning author Elsa Marston and with beautiful paintings from award-winning illustrator Claire Ewart, The Olive Tree follows two children as they learn to share and work together by looking past their differences. It shows young readers that compassion and understanding lie at the heart of all friendships.
About the Author
Elsa Marston is the author of over a dozen books of fiction and non-fiction for children and young adults, many of which incorporate her lifelong interest in Middle Eastern history and culture. She has won numerous awards for her writing, including the Middle EasternOutreach Council Book of the Year on three occasions, a VOYA award, Bank Street College Best Book of the Year, as well as awards from Highlights Magazine and the International Reading Association. Elsa s late husband was from Lebanon, and the two of them would often travel together to the Middle East. She attended Harvard University, the American University of Beirut, and Indiana University. She lives in Bloomington, IN. Claire Ewart is a well-known illustrator and author of books for children. She has illustrated books for famous authors such as Paul Fleischman (Time Train) and Tomie dePaola (The Legend of the Persian Carpet), who said of her abilities as an illustrator, No author could ask for a more talented interpreter. Ms. Ewart has also written and illustrated several books of her own, including One Cold Night, The Giant, and Fossil. Her work as an illustrator has been included on Best Book lists from School Library Journal and Parent s Magazine, and also featured on the PBS television shows Reading Rainbow and Storytime. Ms. Ewert is a recipient of the Celebrate Literacy Award from the International Reading Association. Claire Ewart s illustrations have been featured in museums and galleries, and included in the Society of Illustrators show Original Art. Her portfolio was featured in the 1992 edition of Children's Writer s & Illustrator s Market. She lives in Fort Wayne, IN."