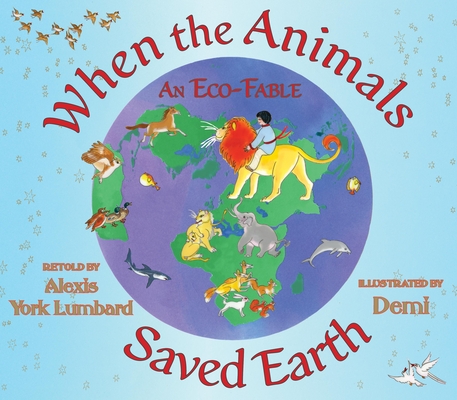 When the Animals Saved Earth (Paperback)
An Eco-Fable
Wisdom Tales, 9781937786373, 32pp.
Publication Date: April 1, 2015
* Individual store prices may vary.
Description
On a secluded island, in a faraway sea, the animals live in peace and prosperity. But one day, the winds of fate bring humans to their shore. Down come trees and up go houses, farms, and a bustling market. The humans capture the animals and put them to work. A great sadness falls upon the land, and only a young boy named Adam can hear the animals cries. Compelled to act, Adam escapes into the jungle and joins with the remaining free animals, attempting to summon the Spirit King Bersaf. Will the king bring the humans to trial for their harmful actions? Will justice be had? Will balance return to land, sea, and sky? This multicultural environmental tale is inspired by a 1,000 year old animal fable from 10th century Muslim Iraq, which was originally translated by a Jewish rabbi at the command of a Christian king in the 14th century.
About the Author
Alexis York Lumbard is the author of the award-winning titles The Conference of the Birds (illustrated by Demi), Angels (illustrated by Flavia), and more recently Everyone Prays (illustrated by Alireza Sadeghian) and Pine and the Winter Sparrow (illustrated by Beatriz Vidal). A busy mother of three, she was motivated to write by her children. With a B.A. in Religious Studies from George Washington University, it is her sincere hope to bring the wisdom and beauty of the world s cultures and religions to the eager minds of young children. Alexis lives with her husband and three daughters in Natick, MA. Demi is the award-winning author of over 130 bestselling children s books. Her titles have sold over half a million copies. The Empty Pot was selected by former First Lady Barbara Bush as one of the books to be read on the ABC Radio Network Program Mrs. Bush s Story Time, sponsored by the Children s Literacy Initiative. Demi s book Gandhi was named a New York Times Best Illustrated Book and received an Oppenheim Toy Portfolio Platinum Award. In addition, she represented the United States at the First International Children s Book Conference in Beijing, China. She lives with her husband in Yarrow Point, WA."
or
Not Currently Available for Direct Purchase