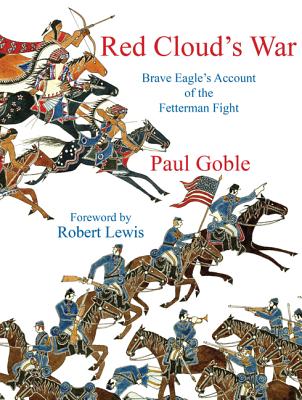 Red Cloud's War (Paperback)
Brave Eagle's Account of the Fetterman Fight
Wisdom Tales, 9781937786380, 48pp.
Publication Date: July 15, 2015
* Individual store prices may vary.
Description
"We are brave and ready to fight for our lands . I will go now and I will fight you. As long as I live, I will fight you for the last hunting grounds of my people," said Red Cloud, war chief of the Oglala Lakota, to Colonel Carrington. The year was 1866, the Civil War had just ended, and the Bozeman Trail was the shortest route for prospectors to reach the gold rush territory of Montana except that it passed straight through the lands of the powerful Oglala Lakota When the US government demanded the construction of forts along the trail, the situation quickly dissolved into war. Captain William Fetterman had proudly boasted that he could destroy the entire Lakota nation with just 80 men. Red Cloud, with the support of Crazy Horse and Sitting Bull, had other ideas. In this commemorative edition, marking the 150th anniversary of Red Cloud's War, Goble recounts the tale of events through the eyes of Brave Eagle, a fictional young Lakota warrior. This new edition features an original never-before-published layout, updated and edited text, digitally enhanced artwork, and a new foreword by Robert Lewis, a Cherokee, Navaho, and Apache storyteller.
About the Author
Paul Goble is an award-winning author and illustrator of over 40 children s titles. His book, The Girl Who Loved Wild Horses, won the prestigious Caldecott Medal. Born in England, he has lived in the US since 1977. In 1959, Goble was adopted into the Yakima and Sioux tribes (with the name Wakinyan Chikala, "Little Thunder") by Chief Edgar Red Cloud. Goble has given his entire collection of original illustrations to the South Dakota Art Museum in Brookings, South Dakota, where it is permanently on display. He lives in Rapid City, SD. Robert Lewis is an award-winning storyteller, author, and artist of Cherokee, Navaho, and Apache descent. He works for the Cherokee Nation as a school and community specialist and conducts outreach classes and services in art, culture, and storytelling. He lives in Tahlequah, OK."