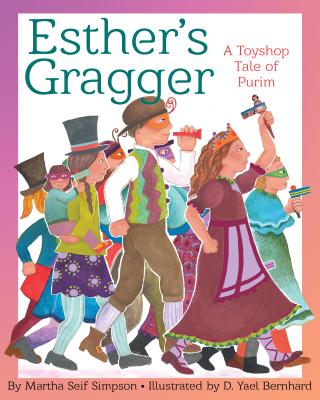 Esther's Gragger
A Toyshop Tale of Purim
Hardcover

* Individual store prices may vary.
Description
Young Esther is given a special gragger (a noisemaker) to celebrate the fun, and sometimes raucous, Jewish festival of Purim. An older boy bullies her to get it for himself, but Esther reacts with great courage and intelligence, her actions reflecting the biblical story on which Purim is based. The lively cast of characters quibble and carouse in a bygone world of warmth, surprise, and generosity. There is even a parade for children only. The appendix helps readers understand the history of Purim, how it is celebrated today, what a "gragger" is, and how to make a simple noisemaker. Following the award-winning The Dreidel That Wouldn't Spin, author Martha Seif Simpson and illustrator D. Yael Bernhard have again created a new toyshop tale of playful language and images that hint at ancient roots and hidden meanings, which are just waiting for young readers to find. This is a tale ideal for reading aloud for fun, but also for learning.
Wisdom Tales, 9781937786755, 40pp.
Publication Date: January 7, 2019
About the Author
Martha Seif Simpson is an author and children's librarian, currently in her twenty-fourth year as head of children's services at the Stratford Library in Stratford, CT. She is the author of five professional books for teachers and librarians as well as two children's books: What NOT to Give Your Mom on Mother's Day and The Dreidel that Wouldn't Spin: A Toyshop Tale of Hanukkah. Martha enjoyed celebrating Hanukkah and Purim with her parents and brother while growing up, and sharing these customs with her own children and husband. She lives in Hamden, CT. Durga Yael Bernhard is the illustrator, designer, and author of numerous award-winning children's books. She brings a variety of influences to her work, including African art, studies in Eastern and Western religion, and a love of nature that fills her daily life in the Catskill Mountains of NY where she makes her home. Ms. Bernhard is also a fine-art painter, an arts-in-ed teacher, and a bnei mitzvah tutor. Her titles include Never Say a Mean Word Again and The Dreidel That Wouldn't Spin.