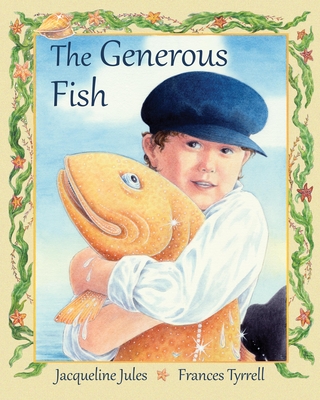 The Generous Fish (Hardcover)
Wisdom Tales, 9781937786793, 40pp.
Publication Date: January 7, 2020
* Individual store prices may vary.
Description
Inspired by Jewish folklore, The Generous Fish is the story of a young boy named Reuven who takes a verse from scripture to "cast your bread upon the waters" (Ecclesiastes 11:1) quite literally. The result of his daily act is a giant talking fish with golden scales Boy and fish spend idyllic days together until the villagers realize those scales are real gold. Every villager has good reason to ask for one. Devorah needs clothes for her children. Old Joseph needs money for a cane. The fish says he has plenty to share. But he grows weak from giving away too much, too fast. Can Reuven stand up to the village and save his friend? Through a unique friendship between a boy and a magic fish, award-winning author Jacqueline Jules has created an environmental fable sure to generate discussion in the classroom and at home. What happens when we want something that depletes another's resources? Frances Tyrrell's finely detailed illustrations delightfully capture a child's innocent love for the natural world. An author's note provides biblical sources on human interaction with the environment.
About the Author
Jacqueline Jules is the author of forty books for young readers, including the award-winning Zapato Power series, Never Say a Mean Word Again: A Tale from Medieval Spain, and Feathers for Peacock. A former school librarian and teacher, Jacqueline enjoys visiting schools to share her passion for reading and writing. She is a word person, who loves rearranging words on the page, the same way people have fun fitting the pieces of a jigsaw puzzle together. Jacqueline lives in Arlington, Virginia. Frances Tyrrell is an artist who creates finely detailed and imaginative illustrations for children's books and a wide range of licensed products. A lover of the magical world of illustrated books since childhood, Frances now takes great pleasure in creating beautiful books for today's children. Her works Huron Carol and Woodland Christmas have been shortlisted for the Governor-General's Award for Illustration, while her original watercolors are in private and public collections. Frances lives and works in Oakville, Canada.