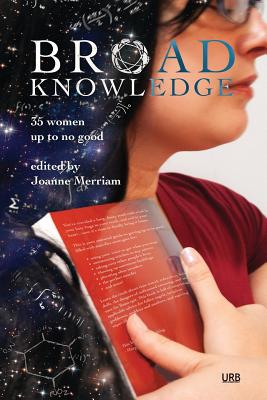 Broad Knowledge
35 Women Up To No Good
Paperback

* Individual store prices may vary.
Description
Broad Knowledge: 35 Women Up To No Good is a feminist anthology of dark fiction and darker knowledge, edited by Joanne Merriam. Containing 35 stories of "bad" women, and "good" women who just haven't been caught yet, it features 35 fearless writers who identify as female, non-binary, or a marginalized sex or gender identity. It's the second in the Women Up To No Good series, which can be read in any order.
Our contributors are based in or hailing from Australia, Canada, China, the Czech Republic, India, the Philippines, and all over the United States. Between them, they have won the Aeronautilus, Encouragement, Fresh Voices, Tiptree, and World Fantasy Awards, and been shortlisted for the Aurora, Bram Stoker, and Ignotus, as well as numerous others We also include two stories in translation, one by Argentine author Teresa P. Mira de Echeverr a and the other by Galician writer and poet Est baliz Espinosa.
Recommended by the Barnes & Noble Sci-fi & Fantasy Blog: "The lineup of contributing authors include a wide range of new and established horror and speculative fiction writers, including L. Timmel Duchamp, ...Nisi Shawl, and] D.A. Xiaolin Spires".
TABLE OF CONTENTS
* Charlotte Ashley, "She Falls"
* R. S. Benedict, "Clara Vox"
* Megan Chaudhuri, "First mouse model of Innsmouth Fish-man Syndrome draft 2 USE THIS VERSION - edits by MK.doc"
* Autumn Christian, "Flowers for Dogman"
* Vida Cruz, "Blushing Blue"
* Sarina Dorie, "The Visitations of Seraphim by Biblical Scholar Father Anthony Maguire"
* L. Timmel Duchamp, "The Forbidden Words of Margaret A."
* Est baliz Espinosa, " 23 commuter line chromosomes:: "
* A. T. Greenblatt, "Five Meters Ahead, Two Centuries Away"
* Claudine Griggs, "The Cold Waters of Europa"
* Audrey R. Hollis, "Your Life Will Look Perfect from Afar"
* Joanna Michal Hoyt, "Taking It Back"
* Rebecca Jones-Howe, "Election Season"
* Ezzy G. Languzzi, "Viva La Mu eca"
* Maggie Maxwell, "Like I Need a Hole in the Head"
* Rati Mehrotra, "Make Pretty"
* Teresa P. Mira de Echeverr a, "Liquid Glass" (trans. Lawrence Schimel)
* Premee Mohamed, "Below the Kirk, Below the Hill"
* Wendy Nikel, "Maidens of the Sea"
* Julie Nov kov , "Frankenstein Sonata"
* Aimee Ogden, "Matched Set"
* Therese Pieczynski, "Three Days, Two Nights"
* Laura E. Price, "Mary in the Looking Glass"
* Clarice Radrick, "The Red"
* Nisi Shawl, "Street Worm"
* Tabitha Sin, "The Donor"
* Angela Slatter, "The Song of Sighs"
* D.A. Xiaolin Spires, "Sunbasker"
* Priya Sridhar, "Tidal Bloom"
* Jae Steinbacher, "Blood Sausage"
* Sonya Taaffe, "Like Milkweed"
* Liz Ulin, "Profanity"
* Marie Vibbert, "Infinite Boyfriends"
* Mingzhao Xu, "Think, Baby Turtle"
* Xin Niu Zhang, "The Ladies in the Moon"
Upper Rubber Boot Books, 9781937794859, 366pp.
Publication Date: November 3, 2018