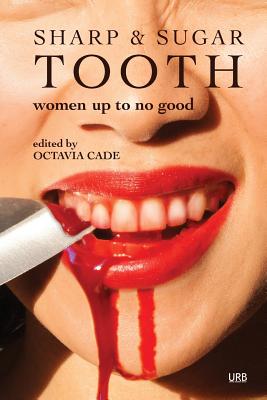 Sharp & Sugar Tooth
Women Up To No Good
Paperback

* Individual store prices may vary.
Description
Sharp & Sugar Tooth: Women Up To No Good is a horror anthology of dark fiction and darker appetites, edited by Octavia Cade. Containing 22 stories of "bad" women, and "good" women who just haven't been caught yet, it features 22 fearless writers who identify as female, non-binary, or a marginalized sex or gender identity. It's the third in the Women Up To No Good series, which can be read in any order, or as standalone anthologies.
Contributors are based in or hailing from Australia, Brazil, Canada, New Zealand, Nigeria, Singapore, the UK, and all over the United States. Between them, they have won the Andre Norton, Eugie Foster Memorial, Hugo, Lambda, Locus, Mythopoeic, Nebula, Prix Imaginales, Rhysling, Romantic Times' Critics Choice, This Is Horror, James Tiptree Jr., and World Fantasy Awards, and been shortlisted for the Bram Stoker, John W. Campbell, and Shirley Jackson Awards
They are: Kathleen Alcal , Betsy Aoki, Joyce Chng, Katharine Duckett, Anahita Eftekhari, Chikodili Emelumadu, Amelia Gorman, Jasmyne J. Harris, A. R. Henle, Crystal Lynn Hilbert, Erin Hor kov , Kathryn McMahon, H. Pueyo, D. A. Xiaolin Spires, Rachael Sterling, Penny Stirling, Catherynne M. Valente, Sabrina Vourvoulias, Damien Angelica Walters, Rem Wigmore, Alyssa Wong, and Caroline M. Yoachim.
Editor Octavia Cade is a New Zealand writer with a PhD in science communication and a particular interest in science history and marine studies. She been published in places like Clarkesworld, Asimov's, and Apex Magazine, and is the author of Food and Horror: Essays on Ravenous Souls, Toothsome Monsters, and Vicious Cravings (Book Smugglers, 2017), a book of poetry and several novellas. She has been nominated for BSFA and Elgin awards, and has won three Sir Julius Vogels, twice for best novella (The Ghost of Matter and The Convergence of Fairy Tales) and once for best fan writing, for a series of columns on food and horror.
Upper Rubber Boot Books, 9781937794880, 224pp.
Publication Date: March 26, 2019