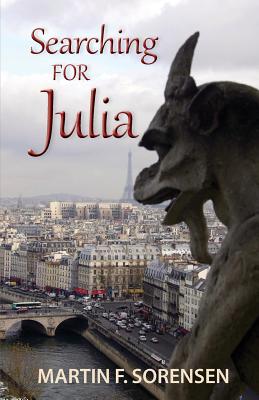 Searching for Julia
Paperback

* Individual store prices may vary.
Other Editions of This Title:
Hardcover (11/27/2017)
Description
1980: Carolyn Stuart's life is about to begin as she plans to enter graduate school at the prestigious UC Berkeley Art Institute. But her dreams are shattered when she is rejected and then comes home to find her boyfriend in bed with another woman. She runs in tears to her high-powered executive mother, only to be met with cold eyes and I-told-you-so. She reluctantly agrees to go to New York to stay with her Grand Aunt Beatrice in the ancestral home, and to visit the grave of her grandmother Julia. Her mother expects Carolyn not to study art, but to study the business of art. Carolyn believes in New York she can break free of her mother's influence and make her life again.
1940: Julia Stuart and her daughter Elizabeth, little Lizzie, live on Park Avenue with her husband, Hugh Stuart, and his mother, Grace. Julia is studying art against her husband's wishes. She discovers that her husband and her mother-in-law are plotting to take the child away from her. Before they can destroy her life, Julia arranges for ship passage to France for herself and little Lizzie. Hugh discovers her plot and arrives at the ship to take the child away, while Julia is stuck on the ship that made the last trans-Atlantic passage on the eve of WW II.
1980: Carolyn is thrilled when she discovers the grandmother was a painter, too, but saddened to read her gravestone. It shows she died in France during the war. With her Aunt Beatrice, Carolyn investigates the family home and finds a painting in the attic and some letters. She is shocked to learn that her stern mother Elizabeth is really little adorable Lizzie. Carolyn decides to travel to Paris to find out what happened to her grandmother. She needs this connection to the family's past and hopes it will explain the dysfunction in her life and in her mother's.
1940: Julia is in Paris when the Germans take over the city. She desperately tries to find a way to get back to New York, but the Nazis have made it impossible for her to leave. Hugh is refusing to send her money. Julia makes a fatal mistake about her documents and is confronted by the Gestapo. The last we see of her, Julia is put on a truck with other women to an internment camp for foreigners.
1980: Carolyn meets an old friend, Nathalie, her mentor when she was a summer intern at the Louvre. Through Natalie, Carolyn learns how to research the German archives for information about her grandmother. As she travels on the train to Bad Arolsen, she can scarcely contain herself. But will what she learns bring her closer to her mother? Or will it destroy her dreams forever?
Sand Hill Review Press, 9781937818579, 384pp.
Publication Date: November 17, 2017