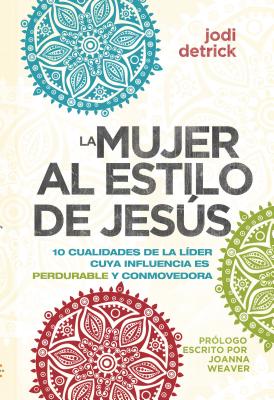 La Mujer al Estilo de Jesus
10 Cualidades de la Lider Con Influencia Perdurable y Conmovedora = The Jesus-Hearted Woman
Paperback

* Individual store prices may vary.
Other Editions of This Title:
Paperback (4/1/2013)
Paperback (11/3/2015)
Description
EstA sucediendo por todas partes. Las mujeres estAn buscando maneras de crecer y usar los dones de liderazgo que saben que Dios les ha dado y que tienen en su interior, y a pesar de los obstAculos, abundan las oportunidades. ?QuA(c) harAea falta, no solo para perdurar como una mujer que dirige, sino que ademAs influye de una manera entraAable y en la cual se puede ver un corazA3n al estilo de JesAs? Cuando de liderazgo se trata, Jodi Detrick cree que: si tienes un corazA3n, puedes aprender esas habilidades. La Mujer al Estilo de JesAs es la guAea de Jodi para ayudar a las damas"desde las novatas, hasta la veteranas que han sido lAederes por muchos aAos"a desarrollar diez cualidades esenciales para un liderazgo dinAmico y encantador. Con una mezcla de humor cAlido y compasiA3n de quien ha pasado por esa situaciA3n, Jodi entreteje relatos memorables, percepciones bAeblicas y una gran cantidad de sabidurAea tomada de la vida real producto de su largo viaje en el liderazgo. En la Mujer al Estilo de JesAs, usted: aprenderA a liderar a pesar de los desafios tanto externos como internos; descubrirA como maximizar los dones de liderazgo que Dios le ha dado; explorarA vAeas para enfrentar a los problemas y a las personas con serenidad; desarrollarA y resguardarA su intimidad con Dios. Cada capAetulo incluye: estupendas preguntas de entrenamiento, perfectas para discusiones en pequeAos grupos; una secciA3n de estudio bAeblico para llevarla a empaparse en la Palabra; una lecciA3n especialmente para nuevas lAederes.When it comes to leadership, Jodi Detrick believes this: if you have the heart, you can learn the skills. The Jesus-Hearted Woman is her guide to helping women"from beginning newbies, to veterans who've led for many years"develop ten essential qualities for dynamic and delightful leadership. With a blend of warm humor and I've been there compassion, Jodi weaves together memorable stories, biblical insights, and lots of real-life wisdom from her own long leadership journey. In The Jesus-Hearted Woman, you will learn to lead in spite of internal and external challenges, discover how to maximize your God-given leadership gifts, explore ways to face problems and people with poise, and develop and guard your own intimacy with God. Each chapter includes great coaching questions, perfect for small group discussion, a Bible-study section to take you heart-deep in the words of God, and a lesson especially for new leaders.
Influence Resources, 9781937830991, 313pp.
Publication Date: August 1, 2013
About the Author
Jodi Detrick es autora y escritora de la columna sobre religiA3n del Seattle Times, unos de los periA3dicos principales de los Estados Unidos. Como coach personal y oradora en muchos grupos de los Estados Unidos, a Jodi le encanta relacionarse con las personas y conversar acerca de las cosas que son mas importantes para ellos. Ella cuenta con un Doctado en Ministerio (D.Min.) del Seminario TeolA3gico de las Asambleas de Dios y preside la red nacional para mujeres en el ministerio, llamada Network for Women in Ministry. Vive con su esposo, Don, en la zona lluviosa de la costa Noroeste de los Estados Unidos. Jodi dice: Si me preguntas quA(c) quiero hacer el resto de mi vida, A(c)sta serA mi respuesta: Quiero tener enriquecedoras.
or
Not Currently Available for Direct Purchase