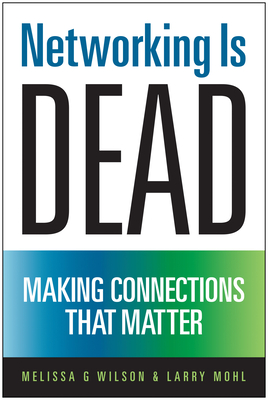 Networking Is Dead: Making Connections That Matter (Paperback)
Making Connections That Matter
Benbella Books, 9781937856021, 164pp.
Publication Date: November 6, 2012
Description
Are you
... hoping your next networking event will be "the one"?
... collecting mountains of business cards?
... having countless breakfasts and lunches?
... thinking about what you give and get? Then your way of networking is ... dead. With social networks, teleconferencing, and webinars, you are able to meet more people in more ways than ever before. But that doesn't mean you're creating new possibilities through valuable connections. Networking Is Dead offers a new approach to fundamental networking misconceptions. Authors Melissa G Wilson and Larry Mohl show it's the quality rather than the quantity of connections that counts. Their fable tells the story of connection expert Dan guiding Meredith, an outgoing social media expert, and Lance, a shy accountant, to build relationships that matter to them and their businesses. It shows an effective process that lets you: - Deepen existing relationships and make meaningful new ones
- Connect across your own company to strengthen your business
- Find people with similar values to embark on mutually beneficial opportunities
- Leverage your connections instead of being overwhelmed by them Networking Is Dead is an engaging story that provides easy-to-implement tips at the end of each chapter. This powerful combination of story and time-tested action steps provides a comprehensive roadmap to achieve even your toughest goals. Networking is dead, but making connections that matter will bring new possibilities to life for you and your organization.

About the Author
Melissa G Wilson is one of the world's leading experts on the development of online networks as a means of accelerating brand growth, sales, and innovation inside and outside of organizations. She is also one of the top 10 LinkedIn strategists and trainers. For more than a decade, Wilson and her team at Networlding have provided exceptional relationship selling, marketing, and management programs for organizations such as Motorola, AT&T, CNA, American Express, and Disney. Wilson's Networlding program has been licensed by universities such as Yale and corporate universities such as Motorola University.

Wilson has also been a guest on both radio and television including the "TODAY" show, CNN, WGN, CNBC and FOX. One of her books was featured on "The Oprah Winfrey Show." She has also won a Consummate Speaker of the Year Award. Wilson's passion is helping young professionals get better starts in their lives. To this end she created a special initiative, Leadership 12-29.

Larry Mohl is the Chief Innovation Officer and a founding partner of Performance Inspired, Inc., a research-based learning and consultancy firm specializing in assisting organizations to increase workplace and marketplace performance by activating the proven "Drivers of Inspiration." Mohl is a nationally recognized thought leader, author, speaker, chief learning officer for Fortune 100 companies, and entrepreneur.

As Chief Learning Officer for the Personal Communications Sector of Motorola Inc., The American Express Company, and Children's Healthcare of Atlanta, Mohl has pioneered innovative approaches to leadership development, knowledge communities, and integrated talent management. As a senior human resource leader and well-known change architect, Mohl's contributions have included development of talent strategies and implementation of company-wide programs that have led to measurable increases in employee engagement, retention, leadership supply, and organization capability.
Praise For Networking Is Dead: Making Connections That Matter…
This book makes networking easy and enjoyable. The authors understand that connecting with others who share your values and principles is more important than connecting with people who are simply in fields similar to yours. As business changes at an ever faster pace, it's important to build a strong networknot only so you can thrive, but also so that others can thrive through you."
Ken Blanchard, coauthor of The One Minute Manager® and Great Leaders Grow

Yes, this is another book about networking, but if you think you've seen it all (or read them all) ... this one is worth adding to your shelf. It takes networking to a whole new level by talking about truly making connections in some new and time-sensitive ways that give you the edge over others who are trying to do the same ... and haven't read this book!"
Beverly Kaye, Founder & Co-CEO, Career Systems International, coauthor of Help Them Grow or Watch Them Go: Career Conversations Employees Want

Integrity and authenticity in communicationsbeing real"cut through the clutter to create and sustain quality relationships. This book guides the building of grounded relationships that transcend the speed and quantity of hollow communicationsto deliver those that matter."
Jeanne Bliss, President & Chief Customer Officer, CustomerBliss, author of I Love You More than My Dog

The best networkers realize it's not the WHAT or the HOW of what you do that attracts people to you, but rather the WHY that inspire[s] connections and more opportunities,' and that reveals your passion, which allows you to be what they term ... an attractor of possibility.' This book will change the face of networking in some very positive ways."
Bob Littell, Chief NetWeaver, author of The Heart and Art of NetWeaving and Raising Your R&R Factor: How Referable & Recommendable Are You?
Advertisement