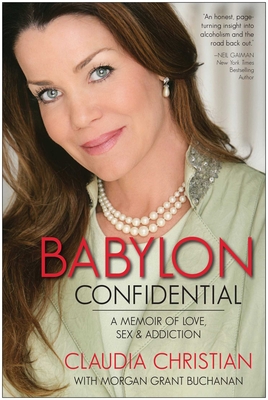 Babylon Confidential (Paperback)
A Memoir of Love, Sex, and Addiction
Benbella Books, 9781937856069, 300pp.
Publication Date: November 6, 2012
* Individual store prices may vary.
Description
When actress Claudia Christian flees a troubled childhood and moves to Hollywood at age 17, she steps through the looking glass into another world. From the set of Dallas to her starring role on the sci-fi series Babylon 5, Claudia's affairs with billionaires, supermodels, rock stars, and celebrities are mixed with shootings, stalking, heartbreak, and betrayal. Onset and off, drama follows Claudia--an alcohol-fueled coke run and makeout session with a bridesmaid on her wedding day; her tempestuous, love-hate relationship with actor Angus Macfadyen; the conspiracy theories surrounding her ex-husband's death; and a 20-year on-and-off relationship with billionaire Dodi Fayed before he dated Princess Diana. Hollywood life takes its toll on Claudia as she descends into alcohol addiction and a desperate battle to reclaim her life. Rehab, alternative treatments, and even hypnotism can't break the cycle of alcohol abuse that threatens to destroy Claudia. Close to despair she discovers The Sinclair Method, a treatment that saves her life. Sometimes shocking, often humorous, always captivating -- Babylon Confidential is a story of hope that will inspire and enlighten you.

About the Author
Claudia Christian is an actress, writer, singer, songwriter, director, producer, and voice-over artist. She landed her first TV series at age 18 with NBC's Berringers and her first studio feature at 20 in the cult hit The Hidden. Christian went on to star in studio pictures such as Clean and Sober with Morgan Freeman and Michael Keaton and in TV shows such as sci-fi megahit Babylon 5. More than 50 films and hundreds of TV shows later, Christian has worked with George Clooney, Sharon Stone, Nicolas Cage, and countless other luminaries. She was the voice for Jaguar cars and Helga Sinclair in Disney's Atlantis. Christian starred in the new Showtime series Look and was recently seen on NBC's Grimm. Morgan Grant Buchanan is an Australian writer of sci-fi and historical fantasy. He has written for comics and film and is currently collaborating with Claudia Christian on Wolf's Empire, a future Rome sci-fi novel.
Praise For Babylon Confidential: A Memoir of Love, Sex, and Addiction…
"An honest, page-turning insight into alcoholism and the road back out."
Neil Gaiman, New York Times Bestselling Author

Warning: Once you start reading Babylon Confidential you may not be able stop until the last page. Babylon Confidential offers mesmerizing insight into the allure of success, the pressures of Hollywood, the pitfalls of love, and the nature of addiction."
Rebecca Moesta, New York Times Bestselling Young Adult Author

"Babylon Confidential is compelling, horrifying, and uplifting. Claudia Christian has an amazing story of glitz and darkness and ultimately a journey as strange and exciting as any of her films."
Kevin J. Anderson, New York Times Bestselling Co-author of Sisterhood of Dune

This story is a runaway train on a roller coaster rail. Told with brutal honesty, Claudia Christian takes us on a trip through her life of sex, drugs, despair, betrayal, courage, humor, love, and triumph. She has lived it all and she's inviting us along for the ride. Hold on to your hat!"
Walter Koenig, Actor, Director, and Author

I was gratified my method of alcoholism treatment could play a part in Claudia's journey from addiction to successful recovery. This vivid and insightful book can help save others suffering from this disease."
John David Sinclair, PhD, Founder of The Sinclair Method for the treatment of alcohol addiction

"The dashing and darling Claudia puts herself on the line with her struggles with addiction. Claudia shares and bares it all to help everyone else.... A must-read for fans and for folks dealing with any kind of addiction."
Pat Tallman, Actress, Stuntwoman, and Author, Pleasure Thresholds

"Fearless and inspiring. Claudia not only remembers the torturous calamities of her life, as well as the highs, but she recalls them here with skill, grace, and utterly no apology. If you have an addiction, or know someone who does, you must read this book."
Shari Shattuck, Actress, and Author, Callaway Wilde novels

[Babylon Confidential] is from the heart, succinct, clear, and gives hope where there is none."
Stephen Michael Cox, MD, President, National Anxiety Foundation

Babylon Confidential is rivetingit is a great book filled with humor, warmth, and compassion. I was by deeply impressed by Claudia's courageous life story and I was grateful that I could play a role in helping her. I know this book will save lives and help families effected by alcoholism."
Dr. Roy Eskapa, Author of The Cure for Alcoholism

A wild ride. Claudia's James Frey-like voice reveals the secret life of an alcoholic. Read, laugh, and learn. But most importantly, shareto save a life."
Clare Kramer, Actress from Buffy the Vampire Slayer