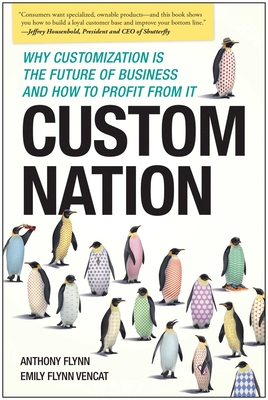 Custom Nation: Why Customization Is the Future of Business and How to Profit from It (Paperback)
Why Customization Is the Future of Business and How to Profit from It
Benbella Books, 9781937856106, 224pp.
Publication Date: November 15, 2012
Description
Smart brands such as Chipotle, Zazzle, Nike, and Pandora are ditching the outdated 20th century model of a one-size-fits-all approach to providing products and services. From a Netflix movie night to a marriage courtesy of eHarmony, customization is changing every corner of American life and business. The New York Times bestseller Custom Nation is a practical how-to guide by someone who has built his business on the power of customization. YouBar founder Anthony Flynn and business journalist Emily Flynn Vencat explain how marketers, brand managers, and entrepreneurs across all industries can reinvigorate their businesses and increase profits. In Custom Nation, learn:
- Why customization is key to today's businesses and what does and doesn't work
- How to incorporate customization in new and established businesses to make your products stand out and sell
- What strategies work for the most successful and profitable custom brands Drawing on firsthand interviews with the CEOs and founders of dozens of companies specializing in customization, Custom Nation reveals how customization can make any business stand apart and generate market share, increase profit margins, and develop customer loyalty.

About the Author
Anthony Flynn. After graduating from the University of Southern California with a business degree in 2006, Flynn founded YouBar, the world's first customized nutrition bar company, with his mother, Ava Bise. Since then, Flynn has grown YouBar to seven-digit annual sales and employs 30 people in an 8,000-square-foot facility in downtown Los Angeles. Flynn frequently gives television, radio, newspaper, and magazine interviews about YouBar and food customization. He has appeared on Fox, ABC, the Cooking Channel, and NBC, among dozens of other television stations. He has also given interviews for The New York Times, Women's Health, DailyCandy, the Today show, E! News, the Nutrition Business Journal, Good Morning America, and National Public Radio's Marketplace. In addition to this, Flynn gives lectures on how customization is changing the food industry, and he consults to companies launching customized food products. Among his numerous talks, he has been a guest speaker at USC, UC Berkeley, and UCLA. Emily Flynn Vencat. After graduating from Barnard College, Columbia University with a degree in English Literature, Vencat moved to London in 2002, where she began her journalism career at Newsweek. Vencat worked as a London-based Newsweek correspondent for five years, where she covered major economic trends, including the international housing market, the global luxury trade, and the effects of global warming and the green movement on big business. After taking over as Newsweek's London-based business writer in 2006, Vencat wrote more than 100 articles in two years, including five cover stories. Later, as a business writer on staff at The Associated Press, Vencat wrote blow-by-blow coverage of the 2008 global economic meltdown, with her articles being picked up by newspapers around the world, including the International Herald Tribune and USA Today. Vencat has interviewed some of the biggest names in the business world, including Virgin boss Richard Branson, Anglo American CEO Cynthia Carroll, Celtel founder Mo Ibrahim, Body Shop founder Anita Roddick, and The Carlyle Group founding partner David Rubenstein. Dennis Flynn (Lead Researcher). In 2008, at the age of just 20, Dennis took over as YouBar's marketing, advertising and social media guru. Dennis' work helped catapult the company from a small five-person team the year he joined to a booming business with over 30 employees just two years later. While running YouBar's marketing and advertising department, Dennis also completed his undergraduate degree in economics from the University of Southern California in 2010. Dennis currently lives in Los Angeles, and is the Director of Marketing and Social Media at YouBar.
Praise For Custom Nation: Why Customization Is the Future of Business and How to Profit from It…
A must-read for all entrepreneursand anyone else interested in the future of business."
Frank Piller, Head of MIT's Smart Customization Group

Flynn and Vencat have brought the future to you today. This book chronicles how humankind's drive for self expression has evolved and where it is heading."
Bob Marino, CEO of CafePress

Entrepreneurs are delivering unprecedented customer value by harnessing innovative business models to provide top quality custom products at affordable prices. Custom Nation takes a good look at the history of customization, who's doing it well, and where it is headed."
Robert Keane, CEO and Founder of Vistaprint

As CEO of a company whose products are driven by customization, I can confidently say that consumers want specialized, ownable productsand this book shows you how to build a loyal customer base and improve your bottom line."
Jeffrey Housenbold, President and CEO of Shutterfly

Custom Nation identifies a new space for an entrepreneur to create and grow a business, marrying the evolving technologies of customized production and distribution with the enabling power of internet communications to closely fit customer needs."
Norman E. Toy, Columbia Business School

A quick and entertaining read, Custom Nation captures the essence of how and why customization has become such a crucial part of the modern consumer experience. The book makes it easy for aspiring customizers to leverage this wealth of knowledge to build the successful CIY business of their dreams."
Jeff Beaver, Co-Founder and Chief Product Officer of Zazzle

Customization is the buzzword in business these days and Custom Nation explains how to approach customizing effectively and make the most out of it."
Jan-Christoph Goetze, CEO and Founder of PersonalNOVEL
Advertisement