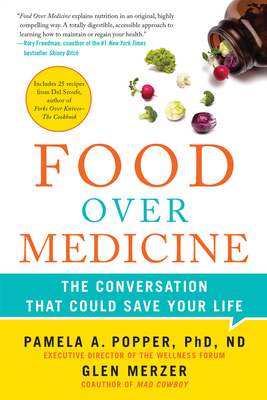 Food Over Medicine (Hardcover)
The Conversation That Could Save Your Life
Benbella Books, 9781937856809, 240pp.
Publication Date: June 11, 2013
Other Editions of This Title:
Paperback (12/16/2014)
* Individual store prices may vary.
Description
Includes recipes from Chef Del Sroufe, author of the bestselling Forks Over Knives--The Cookbook and Better Than Vegan Nearly half of Americans take at least one prescription medicine, with almost a quarter taking three or more, as diseases such as diabetes, obesity, and dementia grow more prevalent than ever. The problem with medicating common ailments, such as high blood pressure or elevated cholesterol, is that drugs treat symptoms--and may even improve test results--without addressing the cause: diet. Overmedicated, overfed, and malnourished, most Americans fail to realize the answer to lower disease rates doesn't lie in more pills but in the foods we eat.With so much misleading nutritional information regarded as common knowledge, from "everything in moderation" to "avoid carbs," the average American is ill-equipped to recognize the deadly force of abundant, cheap, unhealthy food options that not only offer no nutritional benefits but actually bring on disease. In Food Over Medicine, Pamela A. Popper, PhD, ND, and Glen Merzer invite the reader into a conversation about the dire state of American health--the result of poor nutrition choices stemming from food politics and medical misinformation. But, more important, they share the key to getting and staying healthy for life. Backed by numerous scientific studies, Food Over Medicine details how dietary choices either build health or destroy it. Food Over Medicine reveals the power and practice of optimal nutrition in an accessible way.

About the Author
Pamela A. Popper, PhD, ND, is a naturopath, an internationally recognized expert on nutrition, medicine, and health, and the Executive Director of The Wellness Forum. Dr. Popper serves on the Physician's Steering Committee and the President's Board for the Physicians' Committee for Responsible Medicine in Washington, D.C. Dr. Popper is one of the health care professionals involved in the famed Sacramento Food Bank Project, in which economically disadvantaged people were shown how to reverse their diseases and eliminate medications with diet. Dr. Popper is part of Dr. T. Colin Campbell's teaching team at eCornell, teaching part of a certification course on plant-based nutrition. She has been featured in many widely distributed documentaries, including Processed People and Making a Killing and appears in a new film, Forks Over Knives, which played in major theaters throughout North America in 2011. She is one of the coauthors of the companion book which was on the New York Times bestseller list for several months. Glen Merzer is coauthor with Howard Lyman of Mad Cowboy, and with Howard Lyman and Joanna Samorow-Merzer of No More Bull!, and with Chef AJ of Unprocessed. Merzer is also a playwright and screenwriter, having most recently completed a screenplay from Mad Cowboy. He has been a vegetarian for 40 years and a vegan for the last 20. Del Sroufe's passion for cooking began at eight years old and never faded. In 1989 he went to work for one of Columbus' premier vegetarian restaurants, the King Avenue Coffeehouse, where he honed his craft as a baker and chef. Sroufe opened Del's Bread, a vegan bakery, before beginning vegan meal delivery service in 2001, serving eclectic plant-based cuisine to Columbus residents. During this time, he developed what became a very popular cooking class series, sharing many of the delicious recipes he had created over the years. In 2006, Sroufe joined Wellness Forum Foods as co-owner and chef, where he continued the tradition of delivering great tasting, plant-based meals to clients in Columbus as well as throughout the continental U.S. Sroufe also joined The Wellness Forum as a member where, after a lifetime of yo-yo dieting, he has lost over 200 pounds on a low fat, plant-based diet. He continues to teach cooking classes at local venues like Whole Foods, Community Recreation Centers, and The Wellness Forum. Sroufe is the author of Forks Over Knives--The Cookbook, a vegan cookbook companion to the acclaimed documentary Forks Over Knives.
Praise For Food Over Medicine: The Conversation That Could Save Your Life…
"Very few people, and even very few doctors, really understand how powerful nutrition can be in preventing and in treating most of the illness that afflicts us today. Food Over Medicine is an outstanding resource for anyone wanting to maximize their health and minimize their dependence on western medicine."
John Robbins, author of No Happy Cows and Diet for a New America

Food Over Medicine explains nutrition in an original, highly compelling way. A totally digestible, accessible approach to learning how to maintain or regain your health."
Rory Freedman, author of Skinny Bitch

Food Over Medicine is a must for anyone remotely concerned about health. It is incredibly funny, totally engaging, and promotes a diet that just happens to be the best for the planet."
Ed Begly Jr., actor and environmental activist

Reading Food Over Medicine could be the best health insurance you ever had. This no-nonsense approach to solid health information may save your life!"
Howard F. Lyman, coauthor of Mad Cowboy and No More Bull!

Food Over Medicine is an excellent book that reveals the truth that health is more about dietary choices and plant-based nutrition than about doctors, diagnostic tests, surgeries, procedures, and medications. The book is easy-to-read, entertaining, and humorous. But, above all else, it is incredibly informative, enlightening, inspiring, and self-empowering. It will open your eyes. It will encourage you to take charge of your life."
Dr. Walter R. Jacobsen, author of Forgive to Win!

Food Over Medicine cuts through every nutrition-related controversy to give you the information you need for a lifetime of health and trim weight."
Janice Stanger, Ph.D., author of The Perfect Formula Diet
or
Not Currently Available for Direct Purchase