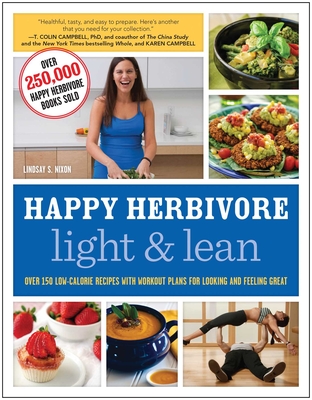 Happy Herbivore Light & Lean (Paperback)
Over 150 Low-Calorie Recipes with Workout Plans for Looking and Feeling Great
Benbella Books, 9781937856977, 336pp.
Publication Date: December 3, 2013
* Individual store prices may vary.
Description
With easy, no-fuss recipes, the bestselling Happy Herbivore cookbooks show how easy, affordable, and delicious eating healthy can be. Now, in her latest cookbook, Happy Herbivore chef Lindsay S. Nixon provides recipes that put a special emphasis on weight-loss and a set of exercises that, like her recipes, are quick, easy, and produce great results. Like all Happy Herbivore cookbooks, Happy Herbivore Light & Lean contains filling, flavorful, plant-based recipes that take 30 minutes or less to prepare. But this time, Nixon takes healthy to an all-new level, with low-calorie, satisfying meals that will help you achieve your weight-loss goals--and without deprivation. True to its title, Happy Herbivore Light & Lean also includes "recipes" for your body with basic workouts, plus tips and tricks that will inspire you to move more for a trimmer, more-toned you. As always, Happy Herbivore Light & Lean recipes are free from oils, processed foods, and diet chemicals such as artificial sweeteners. Happy Herbivore Light & Lean keeps it healthy, keeps it simple, and keeps it delicious.
About the Author
Lindsay S. Nixon is the bestselling author of the Happy Herbivore cookbook series: "The Happy Herbivore Cookbook," "Everyday Happy Herbivore," and "Happy Herbivore Abroad." As of September 2012, Nixon has sold more than 100,000 cookbooks. Nixon has been featured on "Dr. Oz" and TheFoodNetwork.com, and she has spoken at Google. Her recipes have also been featured in "The New York Times," "VegNews," "Vegetarian Times," "Women's Health," Oprah.com, Bethenny.com, Fitness.com, Bust.com, WebMD.com, Shape.com, among many others. A rising star in the culinary world, Nixon is praised for her ability to use everyday ingredients to create healthy, low-fat recipes that taste just as delicious as they are nutritious. Learn more about Nixon and try some of her recipes on her award-winning site HappyHerbivore.com.