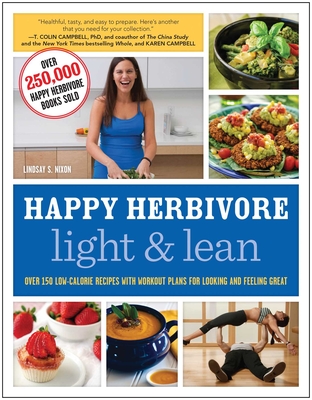 Happy Herbivore Light & Lean
Over 150 Low-Calorie Recipes with Workout Plans for Looking and Feeling Great
Paperback

* Individual store prices may vary.
Description
With easy, no-fuss recipes, the bestselling Happy Herbivore cookbooks show how easy, affordable, and delicious eating healthy can be. Now, in her latest cookbook, Happy Herbivore chef Lindsay S. Nixon provides recipes that put a special emphasis on weight-loss and a set of exercises that, like her recipes, are quick, easy, and produce great results.

Like all Happy Herbivore cookbooks, Happy Herbivore Light & Lean contains filling, flavorful, plant-based recipes that take 30 minutes or less to prepare. But this time, Nixon takes healthy to an all-new level, with low-calorie, satisfying meals that will help you achieve your weight-loss goals—and without deprivation.

True to its title, Happy Herbivore Light & Lean also includes "recipes" for your body with basic workouts, plus tips and tricks that will inspire you to move more for a trimmer, more-toned you. As always, Happy Herbivore Light & Lean recipes are free from oils, processed foods, and diet chemicals such as artificial sweeteners.

Happy Herbivore Light & Lean keeps it healthy, keeps it simple, and keeps it delicious.
Praise For Happy Herbivore Light & Lean: Over 150 Low-Calorie Recipes with Workout Plans for Looking and Feeling Great…
"Lindsay Nixon knocks it out of the park with Happy Herbivore Light & Lean. Eat these delicious recipes, start engaging in these low-impact exercises, and watch a health kingdom emerge from within."
—Rip Esselstyn New York Times bestselling author of My Beef with Meat

"Lindsay Nixon now is a household name in developing cookbooks that have the kind of recipes...that are healthful, tasty, and easy to prepare. Here's another that you need for your collection."
—T. Colin Campbell, coauthor of The China Study and the New York Times bestselling Whole, and Karen Campbell

"Happy Herbivore Light & Lean provides inventive, easy-to-make recipes and sensible do-it-yourself exercises, to get you on the road to excellent health."
—Brian Wendel, executive producer, Forks Over Knives

"No comment can truly capture the totality of Lindsay's magic in the kitchen! Once again, in Happy Herbivore Light & Lean, she creatively proves that plant-based eating is not only delicious but also low-calorie and so satisfying."
—Caldwell B. Esselstyn, Jr., M.D., author of Prevent and Reverse Heart Disease, and Ann Crile Esselstyn

"Happy Herbivore Light & Lean is a wonderful book full of simple, delicious meals to get you started on a healthy vegan diet. Lindsay not only provides a wealth of creative plant-based recipes but also gives great tips to help you lose weight, gain energy, and feel fantastic. I invite everyone to read this excellent new book and get started on your journey to health."
—Neal Barnard, M.D., Founder and President of the Physicians Committee for Responsible Medicine

"I am thrilled to discover in her new cookbook what many of you have known for a while – that girl can cook!"
—Del Sroufe, author of Better Than Vegan and Forks Over Knives – The Cookbook

"Lindsay Nixon has done it again! Another fantastic cookbook filled with easy, delicious, low-fat vegan recipes that everyone will love."
—John and Mary McDougall, bestselling authors and founders of the McDougall Program
BenBella Books, 9781937856977, 336pp.
Publication Date: December 3, 2013
About the Author
Lindsay S. Nixon is the bestselling author of the Happy Herbivore cookbook series: The Happy Herbivore Cookbook, Everyday Happy Herbivore, and Happy Herbivore Abroad. As of September 2012, Nixon has sold more than 150,000 cookbooks. Nixon has been featured on Dr. Oz and TheFoodNetwork.com, and she has spoken at Google. Her recipes have also been featured in The New York Times, VegNews, Vegetarian Times, Women's Health, Oprah.com, Bethenny.com, Fitness.com, Bust.com, WebMD.com, Shape.com, among many others. A rising star in the culinary world, Nixon is praised for her ability to use everyday ingredients to create healthy, low-fat recipes that taste just as delicious as they are nutritious. Learn more about Nixon and try some of her recipes on her award-winning site HappyHerbivore.com.