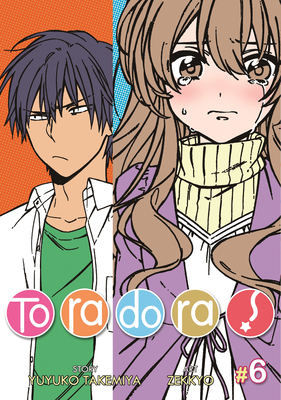 Toradora! Vol. 6 (Paperback)
Seven Seas, 9781937867720, 192pp.
Publication Date: February 4, 2014
* Individual store prices may vary.
Description
DADDY'S LITTLE GIRL
The gang is back in school and it's nearly time for the Culture Festival. Ryuuji and Taiga and the rest of Class 2-C can't figure out what to do for the event, until a random lottery pick tasks them with presenting… a pro-wrestling performance?!
Over on the home front, Taiga's dad has decided to pop back into her life. The possibility of a divorce with his current wife could mean a reunion with his estranged daughter, but Taiga doesn't trust the old man. Ryuuji feels conflicted. While he hopes for a happily-ever-after between father and daughter, it could spell the end of his own "domestic bliss" with Taiga.
About the Author
Yuyuko Takemiya is the author of Toradora!, Golden Time, and Evergreen.
Praise For Toradora! Vol. 6…
"A romance of warmth and humor with an uncanny ability to dodge the excesses of the genre while exploiting all the joys it has to offer." —ANIME NEWS NETWORK
"A genuine, nuanced tale about friendship, love and family, pretty much unrivaled by its contemporaries." —Anime Diet
"Toradora! is a lot like it's subject matter: In turns hilarious, rambling, confused, charming, and foolish, but ultimately a worthwhile and heartwarming experience." —ANIME-PLANET