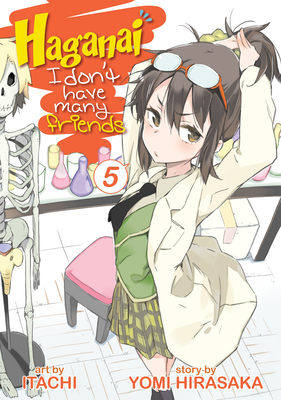 Haganai (Paperback)
I Don't Have Many Friends Vol. 5
Seven Seas, 9781937867867, 192pp.
Publication Date: January 21, 2014
Other Editions of This Title:
Paperback (9/24/2019)
Paperback (10/21/2014)
Paperback (12/18/2018)
Paperback (2/13/2018)
Paperback (11/13/2012)
Paperback (3/4/2014)
Paperback (11/29/2016)
Paperback (6/16/2015)
Paperback (8/19/2014)
Paperback (9/22/2015)
Paperback (4/5/2016)
Paperback (10/15/2013)
Paperback (6/4/2013)
Paperback (6/17/2014)
Paperback (2/3/2015)
Paperback (2/5/2013)
* Individual store prices may vary.
Description
The geeks shall inherit the earth in this New York Times best-selling series!
This is the fifth volume of an ongoing manga series that is sure to appeal to today's manga fans in the same way The Big Bang Theory appeals to geeks.
It's been a month since the misfits of the Neighbors Club joined forces to make friends, but now it's summer break and not one of them has had a shred of success. Rather than face summer alone, the club heads out to the pool, where they can beat the heat and hang out together as practice for when they have real friends. What could possibly go wrong?
About the Author
Yomi Hirasaka is an author of light novels whose best-known work, Haganai: I Don't Have Many Friends, has been adapted into two hit manga series, an anime, and a live-action movie.

Itachi is a Japanese manga artist who is best known for Haganai: I Don't Have Many Friends.