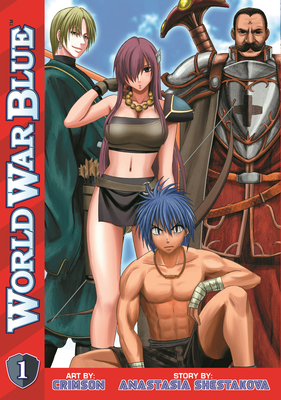 World War Blue Vol. 1 (Paperback)
Seven Seas, 9781937867966, 228pp.
Publication Date: July 2, 2013
* Individual store prices may vary.
Description
Console Wars: Prepare to do Battle!
In the continent of Consume, an endless war between rivals: the Segua Kingdom vs. the Ninteldo Empire. Upon his dinosaur steed, the stern Emperor Marcus has led the Ninteldo Epire to near-victory. Now, with the majority of Consume under its control, Ninteldo has Segua up against the ropes.
Enter a fleet-footed lad named Gear, who seeks vengeance against Ninteldo for his brother's death. After joining Segua's Army, Gear is enlisted in the Special Forces to put his preternatural speed to good use. But will the inexperienced, impulsive youth be ready to face the realities of war?
A video game parody like no other! Also includes bios, maps, and special features about video game lore.
About the Author
Anastasia Shestakova is the author of World War Blue.

Crimson is a Japanese manga artist best known for his work on World War Blue.