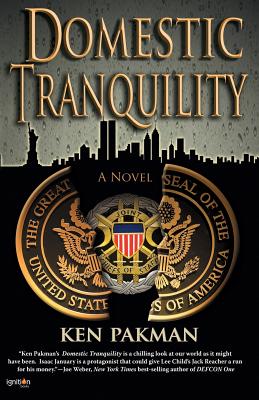 Domestic Tranquility
Paperback

* Individual store prices may vary.
Other Editions of This Title:
MP3 CD (5/24/2016)
Description
In the thrilling tradition of novels such as Fatherland and SS-GB comes a thriller set in an America under martial law.
October 1962: Fidel Castro launches nuclear missiles at the US, striking Miami. The US retaliates and devastates the Soviet Union.
November 1963: President John F. Kennedy and Vice-President Lyndon B. Johnson are assassinated simultaneously by unknown snipers. As the US sinks into chaos, the Joint Chiefs of Staff override the Constitution, execute a bloodless coup, and declare martial law.
Present day: New York City after decades of martial law suffers a perpetual gray cloud cover and rainfall, a remnant effect the nuclear strikes upon the world's weather. Troops and armored personnel carriers patrol the streets. A curfew remains in effect. All of this is just business as usual for Chief Inspector Isaac January of the US Army's Criminal Investigation Division of the New York Garrison. That is until he is called to a grisly murder scene that appears to be an exact copy of a scene that January has seen ten years before. Is it a copycat? Or something else? January suddenly finds himself the target of a conspiracy that marks him, his friends, and loved ones for death, and that will ultimately lead to the very pinnacle of power. . .
"Ken Pakman's Domestic Tranquility is a chilling look at our world as it might have been. Isaac January is a protagonist that could give Lee Child's Jack Reacher a run for his money. This first novel is a must-read . . . and now "-Joe Weber, New York Times best-selling author of DEFCON One
"Domestic Tranquility gives you an action-packed thriller of a story, set against a compelling and darkly-imagined background. It's a great read."-Ian Racey, author of A Traitor's Loyalty
"Awesome story. The concept of a police-state America and the way Mr. Pakman fleshes it out is nothing short of brilliant. Isaac January is a heck of a hero in a land ruled by martial law and the Joint Chiefs. As a first-generation Cuban-American, I found Mr. Pakman's alternate America . . . quite fascinating and also quite original. From the explosive hand-to-hand combat scenes to a downright scary America controlled by the military, Domestic Tranquility will make you damned appreciative of the freedoms granted to all of us through the ultimate sacrifice paid in blood by the men and women of our Armed Forces. Truly a good read."-R.J. Pineiro, author of Havoc, Spyware, and 01-01-00
Ignition Books(r), 9781937868154, 272pp.
Publication Date: December 1, 2012
or
Not Currently Available for Direct Purchase