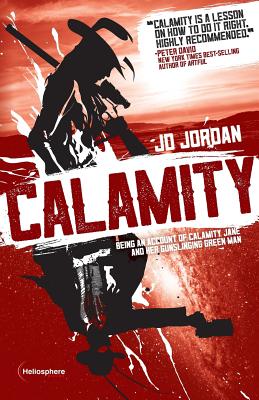 Calamity
Being an Account of Calamity Jane and Her Gunslinging Green Man
Paperback

* Individual store prices may vary.
Description
I'm sure you've heard of Calamity Jane, but this is not a novel about Calamity Jane. At least not the Jane you may have read about. Calamity Jane is part of the legends of the Wild West, but long before she scouted with Custer or "Wild Bill" Hickok, she was a fifteen-year-old girl with a fiery temper.
Violence and tragedy turn young Jane's world upside down and soon she finds herself riding with an alien gunslinger-the Green Man-through a landscape of revenge and betrayal.
Along the way, she learns how to shoot a six-gun and how to stand on her own, even when surrounded by Lakota warriors, and be respected. From space ships to guns that can shoot the wings off a butterfly a mile away, young Jane realizes that the universe is far bigger than the Wild West and that she can trust no one in it to save her but herself.
When the villainous Grays meddling in the wars between the Indians and the government stand in the way of the Green Man making his way home, Jane finds her desire for revenge may be less than her loyalty for the longrider. And in that realization, she becomes the hero the Wild West has long remembered.
So, forget what you know of how the West was won. Forget the Indian Wars and Custer's Last Stand. Instead, learn the truth of what happened when a young girl met a longrider she called the Green Man . . .
Heliosphere Books(r), 9781937868475, 300pp.
Publication Date: September 1, 2016