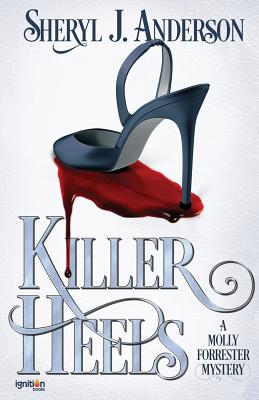 Killer Heels
A Molly Forrester Mystery
Paperback

* Individual store prices may vary.
Description
"Should you care to laugh while you read a murder mystery this would be a number one choice, as you rollick along toward a surprising end."--Rendezvous
Sexy, suspenseful, and snarky, Sheryl J. Anderson's slick debut novel introduces advice columnist Molly Forrester as she faces off against the magazine world, Manhattan's singles scene, and cold-blooded murder . . .
Molly Forrester enjoys playing a "Dear Abby" type for Zeitgeist, a Manhattan glossy, while she seeks her break in serious journalism. She's always hoped opportunity would knock, not throw itself at her feet--but then she literally stumbles over a colleague's body. Now her chance to get closer to real news cannot be denied, as she stares at her spoiled Jimmy Choos planted firmly in a pool of blood . . .
Molly recruits trusty besties Cassady and Tricia to help her solve the crime. But she's competing with Peter, her pretentious boyfriend and journo-rival, and distracted by the gorgeous homicide detective on the case.
As Molly investigates, she stumbles again, but this time, it's onto dangerous secrets within Zeitgeist's ranks. Now, her involvement in this deadly chaos might just cost her a whole lot more than a pair of to-die-for heels . . .
"Chick lit fans, not to mention Sex in the City buffs, will find much to like."--Publishers Weekly
"Her delightful series . . . reverberates with wit, style, and superb characterization."--Mystery Scene
Ignition Books(r), 9781937868628, 248pp.
Publication Date: April 16, 2017